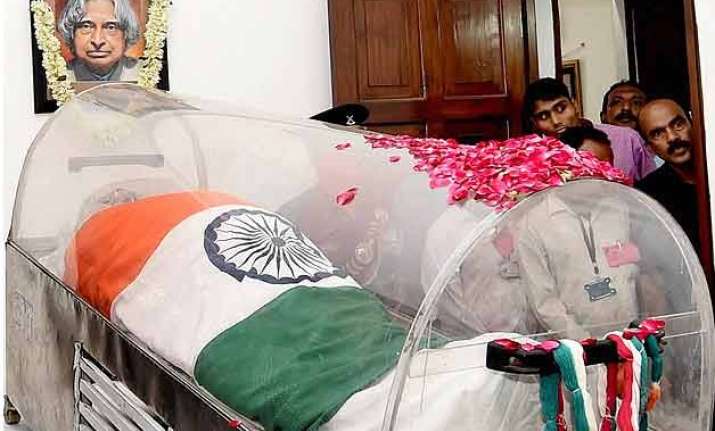 New Delhi:  The powerful and the commoners, jostled to offer their last respects to late A P J Abdul Kalam today as President Pranab Mukherjee, Prime Minister Narendra Modi and leaders cutting across political divide led the nation in paying homage to a leader who rose from humble origins to occupy the top office.
Long queues of people, especially school and college students, were seen through the day at 10, Rajaji Marg residence of Kalam in Lutyen's Delhi waiting for their turn to have a last look at the mortal remains of the person who had asked them to dream big and came to be hailed as the "People's President".
A seven-day national mourning was observed in honour of Kalam, whose last rites will be performed in his birthplace Rameswaram in Tamil Nadu on Thursday morning in accordance with the wishes of his family headed by his elder brother Muthu Mohammed Meeran Marraikar (99). He would be given a state funeral with full military honours.
Both the Houses of Parliament adjourned for two days after paying glowing tributes while the Union Cabinet met to pass a resolution hailing his services to the nation.