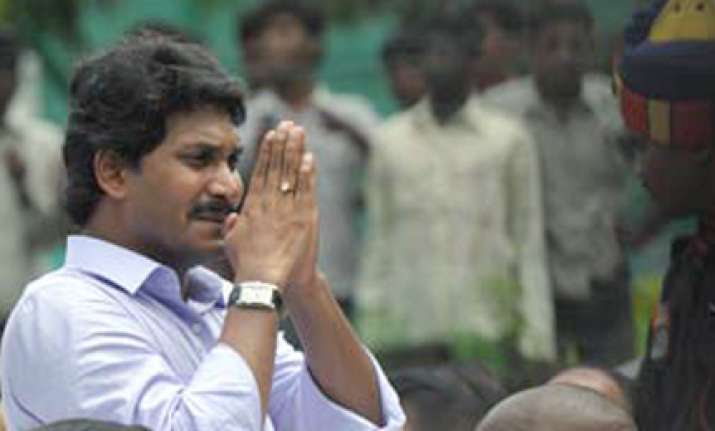 Maintaining that his political future would be decided by party chief Sonia Gandhi, Congress MP Y S Jagan Mohan Reddy on Friday in Hyderabad expressed confidence that he would become the chief minister of Andhra Pradesh "sometime in future.
 "My priority would be state (politics). That's what my request would be. But it is left to the discretion of our party president to use my services the way she deems fit," he told reporters during his first press conference here after his father's death.
 "I am only 36 years old. It is not important for me to get chief minister's post at this juncture. I will work hard and with the goodwill of people, the chief minister's post would definitely come someday in future," he said.  Jagan, as he is popularly known, said he would strive for winning 41 Lok Sabha seats in the state and make Rahul Gandhi the prime minister in 2014, as his father once had announced. 
Though he announced his complete support to Chief Minister K Rosaiah, he virtually put the government on the notice by saying he would "definitely keep a watch" on the implementation of the development and welfare schemes of his late father.
"We will take up the issues with the chief minister, whoever he may be. But that does not mean that we stop mounting pressure on him to see that the schemes are implemented properly, Jagan said.
"We have to ensure that the people are benefited. Because that will have a bearing on the party. We cannot afford to let it go," he said.
Replying to queries on his meeting with Sonia Gandhi yesterday, he said "it is not gentleman-like on my part to disclose what had transpired in the meeting."
Asked if he is open to the idea of becoming a Union Minister, he said, "my priority is state. Even as an MP, I am still happy. I don't need any post. But, once again, it is the prerogative of the party president".
Asked whether he would contest as an MLA, he reiterated that Sonia has to take a call on that.
Jagan made an appeal to his supporters, including MLAs and ministers, to work for the realisation of his father's ideals under the leadership of Sonia and "whoever is the chief minister".
In a veiled criticism of the Rosaiah government, he said his father's promises of increasing the quota of Rs 2-per-kg rice and increasing duration of free power supply have not been fulfilled.
On media reports that suggested a sabotage angle in YSR's death, he said the ongoing inquiry should be completed first. PTI