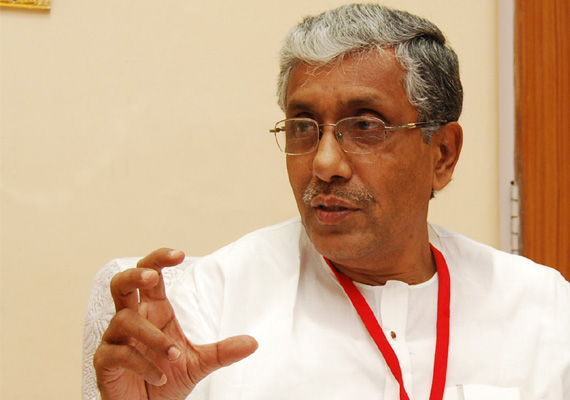 Agartala, July 30: Tripura Chief Minister and Communist Party of India-Marxist (CPI-M) politburo member Manik Sarkar said that he had opposed the CPI-M's participation in the central government in 1996.
"The CPI-M central committee through voting process in 1996 had decided not to take part in the central government with Jyoti Basu as prime minister. I had also voted against party's participation in the central government," Sarkar revealed Monday night here.
The chief minister was speaking at a condolence meeting, organised in memory of veteran CPI-M leader Samar Mukherjee who died July 18 in Kolkata.
Sarkar said: "Though I voted against party's participation in the government, I would not disclose decisions of other former CPI-M central committee members from Tripura."
Former chief minister Dasarath Deb was also a CPI-M central committee member at that time.
The party had expelled another former chief minister, Nripen Chakraborty, in 1995 for criticising the CPI-M leadership, including Basu.
Sarkar said, "First, the CPI-M central committee had taken this decision, passed by a narrow vote margin. Following requests of the supporting parties, the central committee met again and reiterated its decision."
Sarkar's disclosure of the long-pending political debate put to rest the controversy over the Tripura CPI-M's role in that historic decision.
In 1996, veteran Marxist leader Jyoti Basu might have become the prime minister of a coalition United Front government in New Delhi, but the CPI-M did not permit him to accept the high office.
Instead, Haradanahalli Doddegowda Deve Gowda from the Janata Dal became the prime minister (June 1, 1996 to April 21, 1997).
Basu, who died January 17, 2010, in Kolkata, later described this as a "historic blunder".