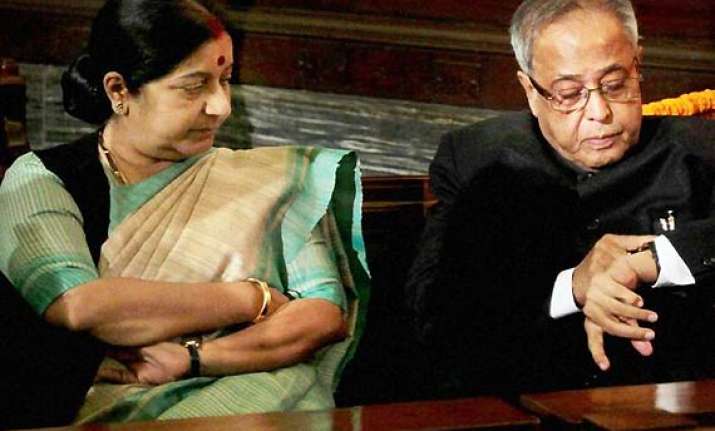 New Delhi, Dec 9: Finance Minister Pranab Mukherjee today paid a back-handed compliment to Leader of Opposition Sushma Swaraj, saying he admired her eloquence but was surprised when even she failed to see the impact of the global situation on the domestic economy.

"When we (government) talk of the international situation we are almost in a cynical way dismissed. Even the Leader of the Opposition has done it," Mukherjee said replying to a debate on inflation in the Lok Sabha.

"I always admire her eloquence and command over language and sometimes I am swayed by that though I do not know Hindi much," he said.

Mukherjee said: "But even she said, 'How does it matter?  Except oil prices, which other prices of international commodities have increased with which we are concerned?"

The Minister snapped at a member when he intervened and asked him to go to a village and talk there about Food Corporation increasing storage capacity by 47.85 lakh tonnes. 

"Don't teach me what a village is. When many a people living in a totally different atmosphere speak off, I simply laugh at it," he said.

"I know what a village is. I come from a village. I am a village boy. Upto my graduation, I stayed in the village and not in Connaught Place," he said, Mukherjee told the member that he hailed from a village and even his Parliamentary constituency (Jangipur) was a village.