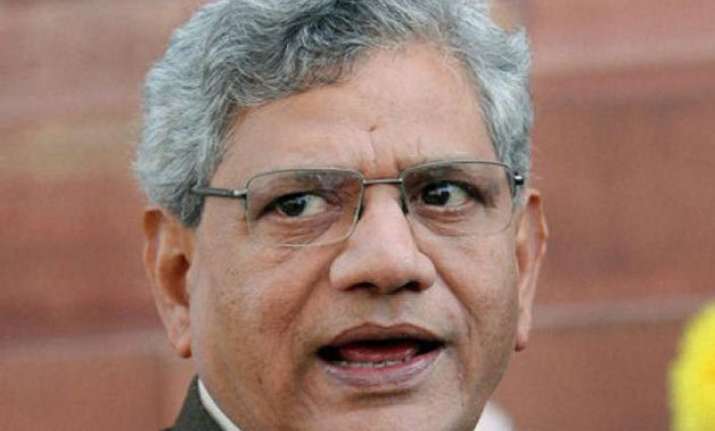 Hyderabad: Sitaram Yechuri, senior CPI(M) leader and Rajya Sabha MP, was taken aback on Friday when he was asked by a driver of Pragati Nagar gram panchayat of Hyderabad not to smoke in the area.
The driver firmly told Yechury that colony was an alcohol-and tobacco-free area.
The politburo member of CPI(M) who was headed for a control committee meeting in the city politely acknowledged the driver's request and threw away his cigarette.
Venkatesh, who is the driver of gram panchayat vice-president of the area, told Yechury that smoking in open is strictly prohibited in Pragathi Nagar and all the residents duly abide by the rule.
He further said that when he asked "Mr Yechury" to throw the cigarette, the latter did and commended, "I like it!"
Pragathi Nagar is a colony in Hyderabad of around 850 acres.  With the population of 40,000 residents; it is a true example of a "model colony". Area wise, it includes the 180 acres of Amber Cheruvu Lake and 6750 trees.
The area is completely free of alcohol, plastic, tobacco, gutka and carbonated drinks. Everything from tree-cutting, littering or cheating on weights while measuring a commodity is immediately fined.
Ch. Sudheer Reddy, the vice-president of the gram panchayat told The Asian Age, "My first duty every day is to look at the complaint book placed at the panchayat office. For any complaint, action is taken on the same day. Example, if a complaint states that a vendor is selling plastic covers, the person is immediately fined from Rs 500- Rs 5,000 depending on the violation; for tree cutting Rs 3,000 depending on the age of the tree. If the streetlights are not functional, they are replaced immediately. None of the 400 shops in Pragathi Nagar are permitted to sell cigarettes, gutka or carbonated drinks and there are no wine shops. "
He further said that the gram panchayat has a staff strength of 70 members out of which 27 are specifically assigned for security, who tour the area on regular basis and keep a watch on violations.
The complaints are directly addressed to the vice-president and the fine is imposed immediately. If a person is unable to pay the fine, then his property is seized for a particular period of time depending on the kind of violation made by him.  If a resident refuses to comply then supply of basic facilities like water and electricity is stopped for a certain period for him.