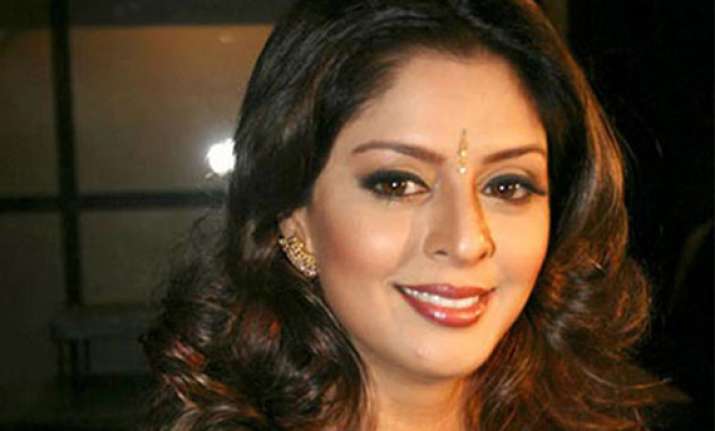 Meerut: A huge crowd of onlookers and supporters  crowded the Collectorate here today when Congress candidate Nagma arrived to file her nomination for the Lok Sabha elections from Meerut constituency.
There was complete anarchy as fans and supporters alike were engaged in scuffle with policemen and others to come closer to the Bollywood actor.
As per the Model Code of Conduct, only five persons are allowed to accompany a candidate while filing nomination, but almost the entire crowd jostled to enter the Collectorate with the Congress candidate.
Nagma, however, managed to reach the Collector's nomination room, but the district Congress president Saleem Bharti who was carrying her nomination forms and other affidavits and documents, was caught in the melee.
For nearly one hour, Nagma waited for Saleem Bharti to emerge from the crush of the crowd.  Congress leaders accompanying the actor alleged that local Samajwadi Party men "in collusion" with policemen tried to prevent Nagma from filing her nomination.
When Saleem Bharti reached the collector's nomination room, there were hardly five minutes left for the deadline, because of which the nomination process could not be completed.
Nagma had to return without filing her nomination.
Meanwhile, a side drama was enacted when Congress MLA from Hapur Gajendra sat on dharna inside the collectorate. Policemen anyhow persuaded him to lift his dharma.
Congress leaders said they would lodge a complaint with the Election Commission.
In the morning, Congress candidate from Ghaziabad and former actor Raj Babbar arrived in Meerut to open the party office.
Raj Babbar said: "I have old relations with Nagma. I started my film career from her residence. Today because of her service to the party, she has been made the candidate from the prestigious seat of Meerut."