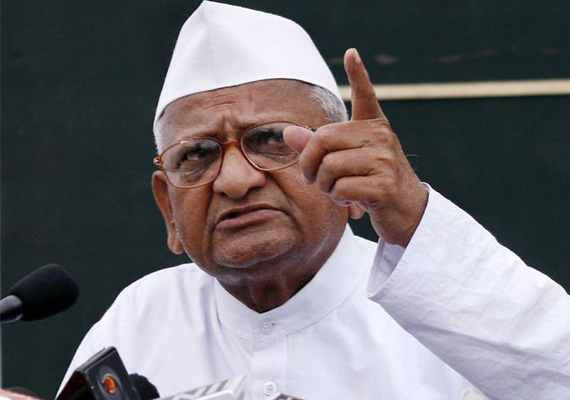 Lucknow, July 24: Social activist and anti-graft crusader Anna Hazare has said that he would continue to press for the passage of the Jan Lokpal (Citizen's Ombudsman) bill by parliament.
In course of his 'Jantantra Yatra' (Walk for Democracy) at the Ramlila grounds in Moradabad, Hazare told his supporters that the need of the hour was to send good people to the Lok Sabha.
"The country has suffered a lot at the hands of the corrupt system. The time has come to overthrow them and cleanse the system of the ills it is suffering from," he said Tuesday.
He pointed out that he had also not given up on his fight for the 'Jan Lokpal' bill. "I will fight for the bill till my last breath" he said to cheers from his supporters.
Hazare also said that he was hopeful that the patriotism and the yearning of change in the young Indians would usher in an era of honesty and good governance in the country.
Hazare had embarked on his 'Jantantra Yatra' in Amritsar March 31 this year to rally support against the Congress-led United Progressive Alliance Government in the run-up to the 2014 Lok Sabha elections.
The 'Lokpal' bill was first introduced by Shanti Bhushan in 1968 and passed the 4th Lok Sabha in 1969.
But before it could be passed by Rajya Sabha, the Lok Sabha was dissolved and the bill lapsed. Subsequent versions were re-introduced but none of them were passed.
In 2011, during parliament's winter session, the Lok Sabha passed the 'Lokpal' bill but could not be passed by Rajya Sabha due to shortage of time in the winter session.