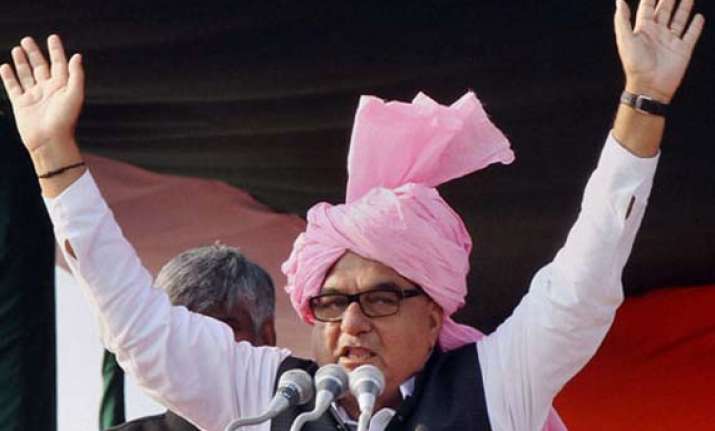 Panipat: Hooted by the Bharatiya Janata Party (BJP) workers in the presence of Prime Minister Narendra Modi early this week, Haryana Chief Minister Bhupinder Singh Hooda hit back asking people to avenge the 'insult' meted out to the state through the ballot in upcoming assembly polls.
"What happened at Kaithal, you all know. Though tit-for-tat is against our culture, but we will definitely avenge what happened there in a different way. I request you to give them a befitting reply using your power of ballot in the assembly polls," he told a rally here.
Hooda had faced hooting from a section of the crowd at the function attended by the Prime Minister in Kaithal after laying the foundation stone of a highway project on August 19.
A couple of days later, the Prime Minister invited him for a cup of tea to placate him.
The two-time Chief Minister said at the rally, where he announced sops for various sections of the people including farmers, that he had intelligence report that such a thing (hooting against him) could happen.
"But I ignored that. I thought in PM's presence people will not do such a thing, but they did not even keep the sanctity of the PM's post. People of Haryana want to know who these people are and from where they have come," he said.
"It was a National Highways Authority of India function, a government function, an official function. What was my fault. Did I go there in my personal capacity? I had gone there as a representative of 2.5 crore people of Haryana," the Chief Minister said.
"I belong to a family which fought for nation's freedom. There is anger among the people of Haryana and this state does not tolerate such insults," he said.
Training his guns on the BJP, Hooda said the saffron party is banking on deserters.
"They (those who left Congress to join BJP) are the same people who enjoyed the fruits of power for 10 years and now they are finding faults," he said.
The Chief Minister asked voters to teach them a lesson at the hosting.
"The people will teach them a lesson and make them bite the dust," he said.
"I want to ask them to declare their Chief Ministerial candidate and the constituency from where he will fight," he added.
The Chief Minister, who gave a report card of his government during the past nine-and-a-half years at 'Vijay Sankalp' rally, also launched a veiled attack on INLD.
"My opponents say that Hooda is a property dealer and these words come from those very people who themselves are property grabbers and charge-sheeted in cases."
Exuding confidence that Congress would form government in the state for the third consecutive term, Hooda said, "We have prepared the poll manifesto and will release it soon."
Wooing Dalit and other weaker sections, Hooda announced waiving of loans amounting to Rs 154 crore taken by 1.25 lakh people including those belonging to SCs and Backward Classes.
He also announced that from November 1 this year, old age and widow pensions will be hiked from Rs 1,000 to Rs 1,500.
The Chief Minister said he had analysed in depth the reasons for poor performance of Congress in the recent Lok Sabha polls.
"What I found is that the BJP's victory was because of hopes built around one man," he said.
"Nobody voted for policies and programmes of the BJP as everyone knows that it is the party of capitalists and has never done anything good for farmers and the poor. The people were swayed by the dreams sold to them by one individual as an atmosphere was hyped in his favour," Hooda said.
A number of senior Congress leaders, including Hooda's ministerial colleagues, were present at the rally.
Hooda's known detractors Kiran Choudhary and Ajay Singh Yadav, both ministers, also attended the rally.
"I will resign and leave politics if one charge of corruption is proved against me," the Chief Minister said.
"All the promises made by the party to the people in its 2009 manifesto had been fulfilled and in some cases we have even exceeded the target," the Chief Minister added.
Highlighting achievements of his government, Hooda said, "We made Haryana a hub of education, we waived power arrears of farmers amounting to Rs 1,600 crore and supplied power to farmers at ten paise per unit."
"Even though Haryana is facing drought-like situation, we will not allow crops to wither away," he said.
"I have a vision to make Haryana educated, developed, healthy and prosperous state," Hooda said.
Hitting out at the 'Gujarat Model' of development, Hooda claimed Haryana was way ahead of the western state.
"We are ahead in per capita income and per capita investment. Scheduled Caste and Backward class students are getting scholarships. We have given 3.83 lakh plots to the poor and are also constructing 2 lakh houses for them. The Haryana government has given Rs 300 crore under its Kanyadan scheme for marriage of daughters," Hooda said.
"If the NDA government at the Centre tries to review schemes like Food Security and Mahatma Gandhi National Rural Employment Gurantee Act, we will resist their move strongly and not let them succeed," he said.
On Haryana forming a separate SGPC, Hooda, pointing at HSGMC leader Jagdish Singh Jhinda, said, "What are the Sikhs of Haryana demanding, they are only demanding the right to do sewa (service) of their Gurudwaras."
Wooing farmers, Hooda said now they would not have to pay interest on crop loans provided they pay principal amount on time.
In case of long-term loan, the government would pay half of the interest of farmers provided they pay their loan on time.
"We have also decided that from November 1, employees will get pay scales on Punjab pattern that includes those working in the police department," Hooda said.
Referring to the Kaithal incident, Haryana Congress head Ashok Tanwar said the BJP had set a bad example.
"It was not the Chief Minister but the people of Haryana were insulted and sentiments of common Haryanvis were hurt," he said.
He said a resolution be passed condemning the incident after which Hooda's political adviser Virender Singh asked the people to raise their hands and support the resolution.
After the people raised their hands, Singh said, "Lakhs of Haryanvis have passed the resolution."
Rohtak MP Deepinder Singh Hooda said the BJP used to make tall promises on bringing down prices and bringing back black money stashed abroad, but nothing of that sorts had happened so far.
Booth-level workers should be galvanised and there should be continuous interaction between leaders and party activists, he said.
"We believe in 'Sabka Saath, Sabka Vikas' (everyone's support, everyone's development)," said Ram Lal, adding that the BJP was determined to form the new government in the state.
"Right now, one does not know whether one chief minister or several chief ministers or a whole family is running the state," he said, in an attack on perceived multiple power-centres in the state government and party.
The political resolution made a scathing attack on the Samajwadi Party for 'acting in a prejudiced and partisan manner to avenge its crushing defeat in the Lok Sabha polls' and said the rule of law was totally finished 'as the official machinery including police were puppets in the hands of the Samajwadi Party leaders'.
The two-day meet lost some of its sheen after the absence of two top leaders - party president Amit Shah and Rajnath Singh.
State party president Laxmikant Bajpayi said: "The chief focus of the two-day meet was on the deteriorating law and order situation in UP, the power crisis, and the raw deal to farmers. BJP is now totally geared to form the government in the state and all our workers are being mobilised to achieve that goal."
He said 'love jihad' did remain an area of concern but 'we are worried about the safety and welfare of all women'.
"To stop crimes and injustices against women, our party will sensitise and mobilise the whole society. People will themselves deal with this problem," he said.
BJP's Braj Prant president Purushottam Khandelwal said that 'from the land of Sri Krishna-Radha, we have pledged to fight against injustices perpetrated on women by a section under patronage of the ruling party'.
"From roads to parliament, we will fight against this alarming trend. It is wrong to equate love with rape, as the chief minister is trying to do. Sexual crimes against women by anyone should not be tolerated on basis of religion or community," he added.