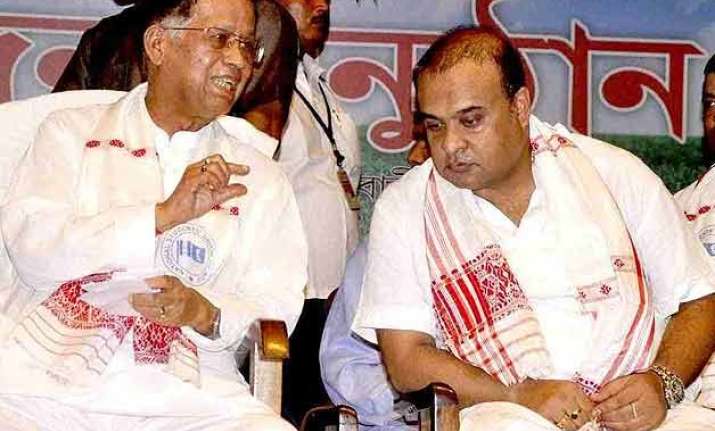 Guwahati: Himanta Biswa Sarma was "one of the assets" while he was a part of the government but the former minister's departure will not affect the ruling Congress in the 2016 Assembly polls, Assam Chief Minister Tarun Gogoi today said.
"Congress will not suffer because of his (Sarma's) decision to join BJP. Ours is a party of ideology. Leaving of the party by one person will not impact us .
Earlier also, many important persons left (Congress), but nothing happened to the party," Gogoi told reporters here.  "Joining and leaving are parts of any political party," he added.
Asked about his association with Sarma, who was once a close associate and the state former education and health minister who quit over differences with the chief minister last year, Gogoi said, "He was one of the assets.
He was a part of the government. I never said he was inefficient and that is why I gave him important ministerial berths.  "Yes, it is true that he was my blue-eyed boy.
I helped (Sarma) despite opposition of many senior Congress leaders.  Today Delhi is accusing me that he was my blue-eyed boy and he became a dissident and has now joined BJP." Gogoi questioned Sarma's ideology for changing his allegiance from a "secular and pro-poor party" to a "Hindutva and communal party."
"There were dissidents in '70s and '80s too. People left the party and formed or joined different parties. Some even formed new parties, with Congress ideology and name but none left the core ideology," he said.
Gogoi said there were many politicians in Congress, BJP, CPI or any other party and they never left their parties even in bad times because of adherence to its ideologies.  
Asked about his reaction after getting the news of Sarma' proposed joining of BJP, Gogoi, who once told the dissident Congress leader was like his son, said "Initially I was shocked, but not now.
It is part of life." "Many people have come and left during my long political career. Personal things don't count, it is about party ideology," the Chief Minister said, adding that he did not want to raise old issues and create any "unnecessary bitterness" with Sarma.
Asked if the Assam government would handover to CBI the probe into the Louis Berger bribery scam, in which Sarma's name figured, Gogoi said it would be done if necessary.  "But so far, our CID department is doing a good job," the chief minister, who ordered probe by the state investigation department, added.
Sarma held the Guwahati Development Department portfolio when Louis Berger was selected consultant for the Guwahati Water Supply project being implemented by GMDA with funds received under the Japan International Cooperation Scheme.  
While US Department of Justice found Louis Berger guilty of paying bribes to Indian officials, including ministers, for a water supply project in Goa, the only other such project the firm was implementing was in Guwahati, and a strong allegation was made against this regard too.