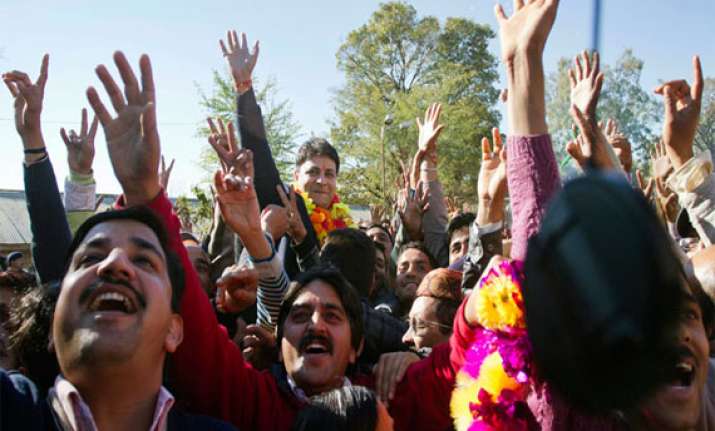 Shimla, Dec 21: The opposition Congress drubbed the BJP in Himachal Pradesh assembly polls, winning 36 out of 68 seats Thursday, prompting tens and thousands of its workers to go into celebration mode - dancing to drums and trumpets.
In contrast, Bharatiya Janata Party (BJP) workers were in a passive mood with most of the leaders disappearing from the party's head office here. The Congress won 36 seats.
Since early morning, a large number of people started gathering at the Ridge here where the state information and public relations department had installed a big television set and online ticker to give information about the polls.
As the results were announced, the Congress activists started gathering outside Virbhadra Singh's residence, who is seen in the political circles as the chief ministerial candidate.
Interestingly, a large number top government functionaries, were seen lined up outside his residence to congratulate him.
Addressing the party workers, Singh said: "I want to thank the people of the state for having reposed faith in the party and its leaders both at the centre and the state."
Conceding his defeat, outgoing Chief Minister Prem Kumar Dhumal told reporters in Hamirpur, his home district, that the party would now analyse the party's debacle.
"We will have to find out where we went wrong. We will analyse and assess the reasons," Dhumal said, adding "my best wishes to the new government".
The BJP, which had got 41 seats in 2007, was down to 26.
This time six independents, mainly the BJP rebels, also won.