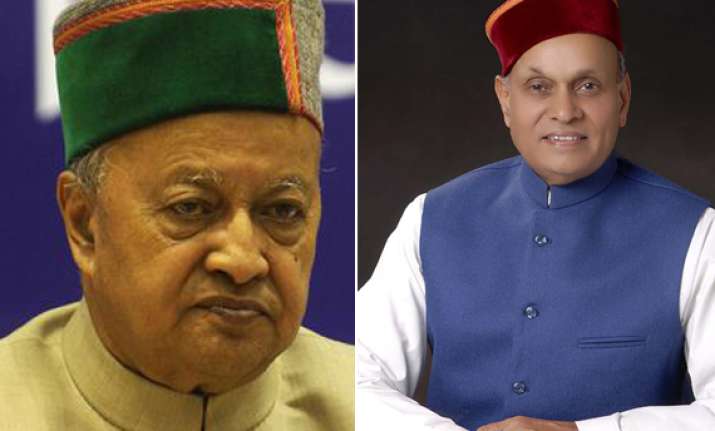 Shimla, June 10: Hitting back at his predecessor and Union minister V B Singh, Himachal Pradesh Chief Minister Prem Kumar Dhumal on Saturday accused him of making false allegations against the BJP and crossing all limits of decency.  
Reacting to certain comments made by Singh at a press conference in Dharamsala yesterday, Dhumal said he was pained to learn about "baseless allegations" levelled against BJP.  
"VB Singh appears to be perturbed due to some reasons best known to him and is crossing all limits of decency and behaving in a manner unbecoming of his age and stature," he said in a statement.
Referring to certain references made by Singh to Y S Parmar, Dhumal reminded him that when he had announced launching of 'Yashwant Gurukul Awas Yojna' named after the first Chief Minister, all members of the Assembly had welcomed the scheme except Singh.
He expressed surprise that Singh was trying to compare himself with Parmar and said he had made immense contribution to the development of the state while the contribution of V B Singh was "negligible".
Taking on the Union Minister on the issue of opening private universities, Dhumal said Singh should refresh his memory that the first bill for opening private universities in the state was passed during his regime.
He said the Congress government had put a condition that the Private universities would not be allowed to sell the land acquired by them for minimum 15 years but the present government increased the time limit to 25 years and yet he was criticising the BJP government.
Terming the charges of Singh on Benami land deals as baseless and preposterous, Dhumal said most of the permissions for purchase of land to outsiders in relaxation of section 118 of the Tenancy and Land Reforms Act were given by the Congress governments which also effected five amendments to the Act to dilute its provisions.
The chief minister also clarified that the decision to have two campuses of central university being set up in Kangra district was taken by the Union government in which he is a minister and said that Singh was trying to instigate the people of Kangra on the issue of Central University.