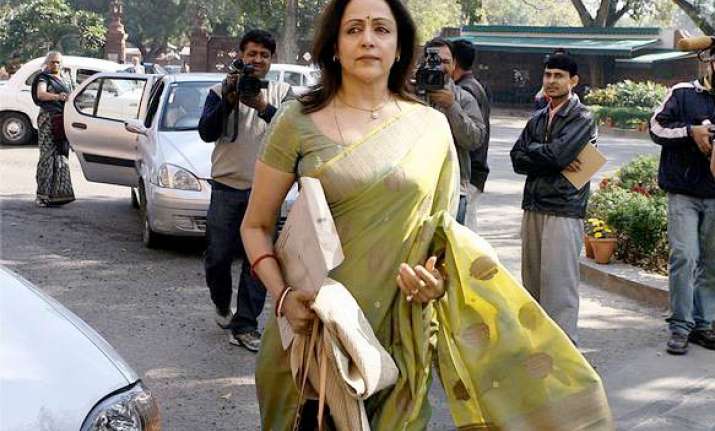 New Delhi, Feb 18: Veteran actor Hema Malini will be the BJP candidate from Karnataka for the forthcoming Rajya Sabha by-poll in the state.
The BJP's Central Election Committee announced Malini's candidature today.
Malini, who completed one term in the Rajya Sabha in 2009, will get only the remaining one year term of Rajashekhar Murthy. The JD(S) leader died on December 6, 2010 due to a heart attack.
The actor had missed the bus in 2009 from Madhya Pradesh for the Upper House in Parliament as the BJP state unit chose to field another candidate.
Party sources said she has been rewarded for being BJP's star campaigner and being available for party work whenever required.
The BJP also announced the names of six candidates for the Assembly elections in Assam to be held in May. These candidates are: Misson Ranjan Das (Karimganj North), Parimal Suklabaidya (Dholai- SC), Ranjit Dutta (Bohali), Sushil Dutta (Lumding), Prasanta Phukan (Dibrugarh) and Rameswar Teli (Duliajan). PTI