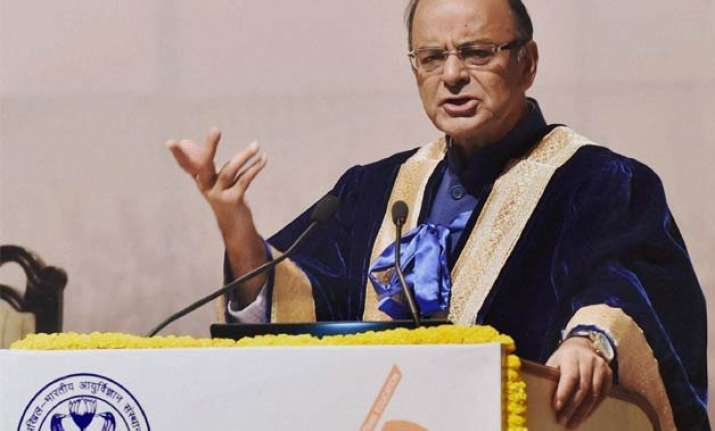 New Delhi: Stating that "over-involvement' has in the past led to "crisis" for AIIMS, Finance Minister Arun Jaitley today said that the Health Ministry should play a supportive role to encourage the institution without getting into its "micro-management".
Observing that the number of medical colleges are still "inadequate" in the country, he also said that a serious review is needed to increase the numbers of such schools. The minister also advocated the need to take a serious look into the policy of organ donation by assessing the best practices around the world.
"I have been a keen observer of the institution (AIIMS).  It grew through challenges and even crises at times. I wish to recount that one mistake or error which ministry normally makes is to get over-involved with AIIMS. I think this has led to several problems and crises in the past.  
"Health Ministry has a great supportive role to play. It has to support and encourage the institution while not getting into the micro-management of it," he stressed.  
Pointing to the tenures of recent Union health ministers, the senior BJP leader further said that "to the credit of the present health minister (JP Nadda), his predecessor Harsh Vardhan and his predecessor Ghulam Nabi Azad, three of them deviated from the past practice, not getting involved in the micro-management of AIIMS, and left it to the professionals of the institution".
"That break from the past makes your job easier," he said at the 43rd Annual Convocation of the premier medical institute here.
Observing that there is a need to expand quality institutions, the minister said a serious review is required to develop medical colleges near existing institutions by relaxing municipal and medical council laws.  
"We need more medical colleges. Both public and private sector education has expanded. But medical colleges are still inadequate. A review of the policy is required as far as increasing the number of medical schools is concerned," he said.
He noted that India is capable of producing "huge" human talent as one out of every seven patients in the US is treated by a doctor of Indian origin while a large part of British healthcare is managed by Indian doctors.  
"We need to expand quality institutions. The restraints on the great hospitals unavailability of contiguous land, inability to have medical colleges next to it needs a serious review.
"We have ready-made hospitals of excellence which have worked for decades and there is no reason why, by relaxing municipal laws and medical council regulations, we are not able to encourage the expansion of a few hundred more medical colleges in India," he said.