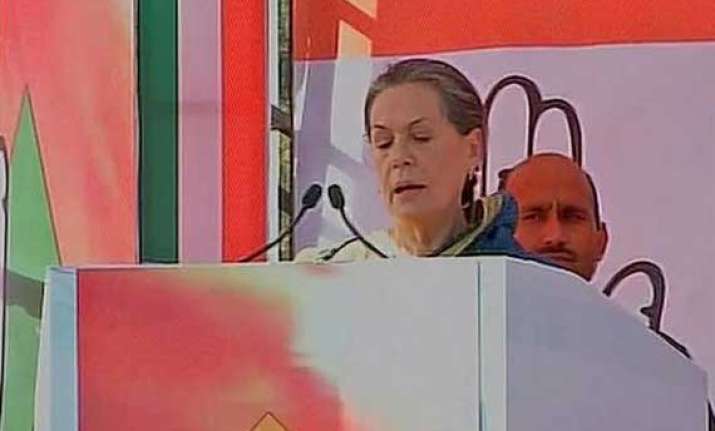 Meham : Taking on Narendra Modi, Sonia Gandhi today accused him of trying to "show off" as if everything has been done only after his government came to power and asked the Prime Minister what happened to his promise of bringing back the black money stashed abroad.
 
"They are creating such an atmosphere as if nothing has happened in the country since Independence and they will change everyone's fortunes overnight. Have any steps been taken to fulfil the promises made during the Lok Sabha elections.
"Has inflation come down? Is the poor man getting food at cheaper rate? Have the unemployed got jobs?  "What happened to their promise of getting back the black money from abroad within 100 days of coming to power. Have any steps been taken in this regard? Absolutely not," Gandhi said in a blistering attack on Modi at a rally here, hours after he urged voters in Haryana to oust the Congress, targeting it over alleged land scams and "anti-farmer" policies.
 
In a swipe at Modi, she said, "empty vessels make the most noise. Being loud doesn't mean you are speaking truth."
"A country is not built in a day's time. For the development of a nation it takes years of hard work, the right intention and the willingness to sacrifice. But today BJP is trying to show off as if all things are happening only after they came to power, that everything is happening for the first time," the Congress President said.
Gandhi today launched Congress' election campaign for October 15 polls in Haryana, where it is locked in a contest with BJP and INLD among others.
Gandhi, who sought votes for the Congress on the basis of development work done during the last ten years, charged BJP with taking credit for policies framed by previous UPA government.
He asked the people not to get swayed by emotions and false promises and vote wisely to bring back the Congress to power in Haryana for accelerated development.
 
"At the time of the elections, I urge you to take a decision after listening to your brain and not your heart.  People may try to whip up sentiments, make false promises to you, beware of them," she said.
Stating that these elections are very important for Haryana, Gandhi asked if any of the promises made by BJP during Lok Sabha elections five months ago have been fulfilled after coming to power.
"Have prices come down? Have the poor started getting cheaper two meals a day or have the youth got more employment?" she said.
Gandhi claimed that there was an atmosphere of fear prevailing in Haryana before the Congress came to power and said her party led by Hooda had ushered in speedy progress and development in the state.
Taking a dig at the BJP for presenting UPA schemes as their own, she said, "They find happiness in presenting the schemes of others as their own. When our UPA government was in power, they always used to criticise our schemes. But now they are launching schemes after renaming ours."
Claiming that the Congress has ushered in a strong foundation of development in Haryana, she said, "Congress has done the real work. In Haryana, Congress in the last 10 years has done such things which were never done earlier."
She said "to take India where it is today, every Indian has put in their labour, including that by scientists and our political and social leaders".