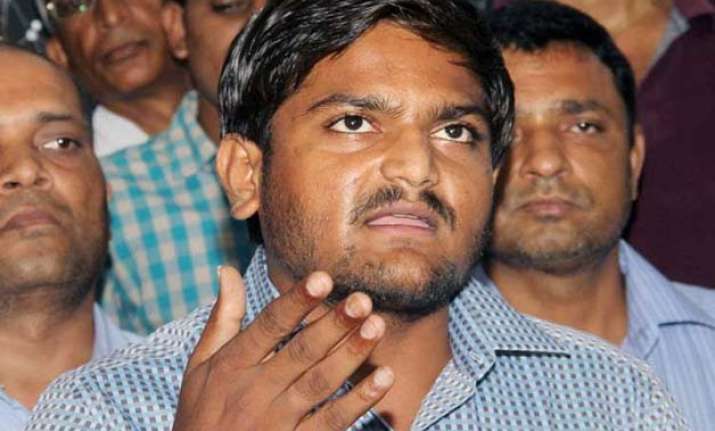 Ahmedabad: Patel quota agitation leader Hardik Patel has asked BJP president Amit Shah not to interfere in the ongoing agitation of the Patel community for its inclusion in the OBC reservation category.
In an open message to Amit Shah, which he shared on the social media, Mr Patel said the agitation will not stop just because the BJP chief wanted it to.
"I request Amit Shah to stay away from Patel community's agitation to get reservation. We will not stop it just because you want it. The agitation will not stop till I am alive. And if you still want to crush the stir by force, then you will have to kill me," Hardik Patel said in the message.
"Even if you kill me, thousand other Hardiks will rise. Try to accept our demands and give us justice. Otherwise, do whatever you can do," said Mr Patel, who is leading Patidar Anamat Andolan Samiti (PAAS).
"Don't interfere in our agitation, because we are not Haren Pandya, Amit Jethwa or Sanjay Joshi," he said. Though BJP leaders did not react to Hardik Patel's barb and claimed ignorance about Amit Shah's possible visit to Gujarat for resolving the quota row, Mr Patel claimed Mr Shah was planning to attempt mediation.
"Everyone is aware of Shah's working style. We have been denied permission to hold rallies and meetings. This reflects Shah's style. It is being done at his behest," he told news agency PTI.
"I have learned from some sources that Shah has been assigned the task to end the agitation. Since we will not end the stir merely on his request, we know that he will use other tactics and force to finish our movement. So I have issued that open message asking him to stay away," Hardik Patel added.
The 22-year-old leader also announced that he would hold one-day fast at JP Chowk in Bihar to mount pressure on the Centre. "We will declare the date in coming days. Thousands of Patels living in Bihar are expected to take part in the fast," he said.