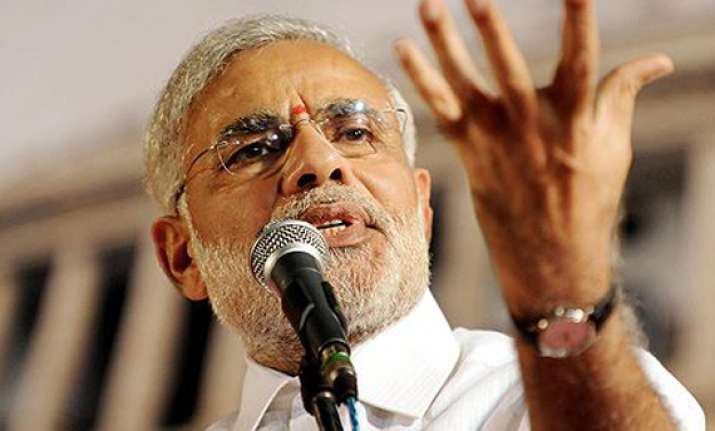 Rajkot, Jun 10: Gujarat BJP on Saturday trained its guns on the Congress-led UPA government in the Centre, alleging that it was doing "injustice" to the state.
The party passed three resolutions on the first day of its state executive meeting held here, where Chief Minister Narendra Modi was also present. One of the resolutions blamed Centre for failing to check the price rise, while another alleged "injustice" to the state.
Leaders of the anti-Modi camp, including former Chief Minister Keshubhai Patel and Kanshiram Rana, remained absent.
"The Central government was creating hurdles in Gujarat's development and did not miss any opportunity to do injustice to Gujarat," BJP spokesman Vijay Rupani said, giving a gist of one of the resolutions.
"Centre has not taken any interest to clear Rs 392 crore coastal security project for Gujarat as the state has the largest 1,600 km coastline bordering Pakistan. The plan is pending with the Centre for the last seven years," the resolution said.
"Gujarat was country's first state to announce solar policy. Centre has allocated 878 MW of solar power (in total) but Gujarat was allocated only 20 MW," it further said.
"Gujarat has (yet) to receive Rs 3,525 crore in tax compensation from the Centre" whereas Andhra Pradesh, Delhi and Haryana had been paid sums due to them, it alleged.
As to the second resolution, Rupani said the Centre had disturbed Indian economy by increasing prices of petrol frequently and the Prime Minister, who is also an economist, had failed on all fronts resulting in devaluation of Indian rupee.
Another resolution praising Gujarat government for double digit growth in agriculture against the national growth of over three per cent was also passed.
The main issue today was Central government's unjust treatment to the state, Rupani said.
A resolution praising development in the ten-year rule of BJP will be passed tomorrow. Modi will also address the gathering tomorrow, sources said.