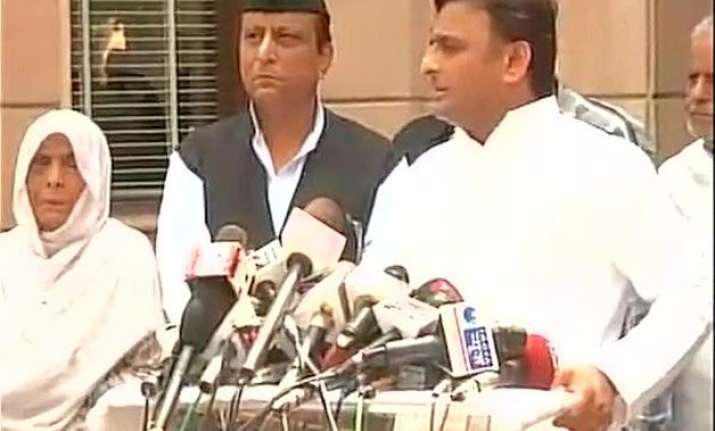 Lucknow: Uttar Pradesh chief minister Akhilesh Yadav on Sunday assured the family members of Dadri killing's victim Mohammed Akhlaqh that justice will be done and culprits will not be spared.
Three members of Akhlaq's family including Victim's mother met the chief minister in Lucknow at his official residence.Apart from the Akhlaq's family, administrative officers of the Gautam Budh Nagar have also flown to Lucknow.
"We are with them in their sorrow. They will receive justice and the guilty will be punished," Akhilesh Yadav said to the media after meeting with the family of the Dadri murder victim.
Chief minister also announced an ex-gratia of Rs 30 Lakh to victim's family and 5 lakh each to his three brothers.
UP CM also said that Samajwadi's never do politics on these issues.
"We will help them, will also provide them with job if required," Akhilesh Yadav promised.
"We thank CM Akhilesh Yadav who supported us. We hope that justice will be done," Akhlaq's family said, responding to the chief minister's statement.
Akhilesh had earlier announced that the accused would be detained under the stringent National Security Act or NSA.
UP home secretary Debasish Panda reiterated this on Saturday. Slapping the NSA will allow the police to detain the accused for up to 12 months.
The police have so far arrested eight of the 10 accused. According to the police, four of them, including Vishal and Shivam, played a key role.
Iqlakh was beaten to death and his 22-year-old son Danish critically injured by a 200-strong mob which had barged into their house on Monday night following rumours that the family had consumed beef. Cow slaughter is banned in Uttar Pradesh.