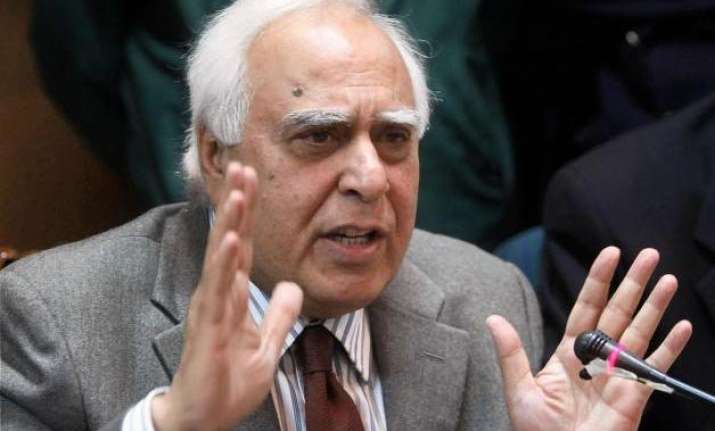 New Delhi: Logjam today continued over the GST between government and Congress, which dismissed as "all optics" Union minister M Venkaiah Naidu's meeting with party chief Sonia Gandhi to seek her support for its passage and alleged that there is no end to BJP's "obduracy" on the issue.
"What proposal? There is no proposal from the government side. If he had to accept our demands why would Finance Minister Arun Jaitley say that shrinking Congress strength in Rajya Sabha will make GST happen," party spokesperson Kapil Sibal said.
He also rebuffed suggestions that the government accepted the demands of Congress and sent a proposal to Gandhi through Naidu.
Claiming that BJP was not ready for any compromise with the Opposition party on the issue, Sibal said, "RSS and Swadeshi Jagaran Manch have red-flagged the reform measure."
When repeatedly asked why Naidu met Gandhi if there was no forward movement on GST, he said, "This is all optics. Naidu came and met Sonia Gandhi.
They have to show all this. Had there been anything substantial, Prime Minister Narendra Modi and Finance Minister Jaitley would have gone on Twitter now.
"Had there been any formal assurance, the Prime Minister would have been the first to speak. The Finance Minister would have gone and said everything on his blog and started tweeting."
A party functionary separately said that the government is resorting to these "optics to divert attention" from Pathankot attack.
With the stalemate continuing over the key economic reform measure, Naidu called on Gandhi seeking her support for its passage and also suggested calling an early Budget Session to pass the pending bills including GST.
This is the second major outreach of the government to the top Congress leadership on the GST bill after Modi had met Gandhi and his predecessor Manmohan Singh over tea at his 7 RCR residence on November 27.
Replying to questions as why Congress is putting hurdles in the GST, Sibal said his party was not doing it but the related issues must be resolved first and reiterated the three demands of Congress including a constitutional cap on the GST rate, to support it.
Asserting that GST is Congress' bill, he wondered why his party will be against it.
"They should answer why Modi then as Gujarat Chief Minister and Jaitley were opposing the GST bill, when the UPA brought it. Why the chief ministers of BJP were opposing it?
"We are not opposing the bill. We are saying that we have certain demands, which you accept. They will not make any compromise on their stand on GST because the RSS and Swadeshi Jagaran Manch have red-flagged it long back," Sibal said.