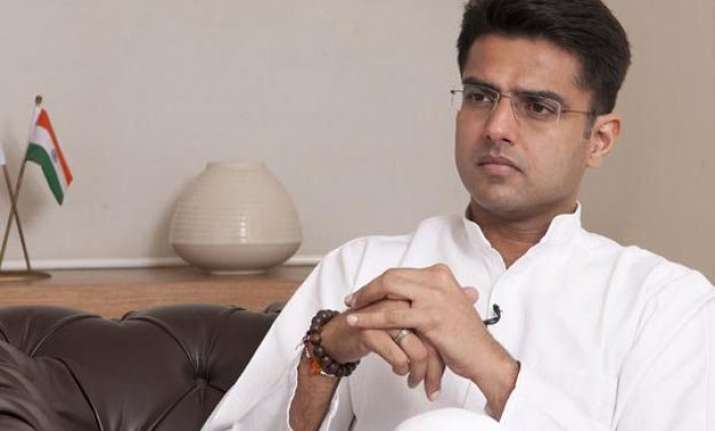 New Delhi: The BJP government is pushing the "anti-farmer" land ordinance forcefully without holding any discussions and it will be fully opposed by the public, senior Congress leader Sachin Pilot said today.  He also said that the government has "failed" on several fronts and has not kept its election promises.  
"Government must give clarification (on land ordinance).  We are ready for discussion. But if this government wants to rule by way of brining ordinances, then we as well as the public will oppose fully," said Pilot, who is the President of Rajasthan Pradesh Congress Committee.  
He was talking to reporters on the sidelines of industry body CII's Annual General Meeting on Day-2.  Pilot said it is not in the work culture of the BJP government to hold dialogues and discussions.  
"So far the work style of the government is concerned, we feel that it's not in their work culture to hold dialogue, discuss and to take people together. It is not in their mindset.
"They have made up their mind that on the basis of majority they want to impose this ordinance on the people forcefully," he said.
Pilot said all opposition parties, farmers, NOGs and non-governmental organisation including NDA alliances in the BJP led government are against the land ordinance.  "Today, especially when we have unseasonal rains, farmers are committing suicide, BJP has got this anti-farmer tag because, the government wants to bring its anti-farmer ordinance.
"We want to ask the government, that only ten months ago they were clapping in Parliament to get this bill passed. So what is the compulsion after ten months that you are bringing whole set of changes in the bill just to make a few people happy," he added.
Pilot said the BJP-led government is nearing one year in office and it has not fulfilled the promises it made to the public before elections last year.
"Be it internal security, administration, black money or employment—in all these areas the government has failed. The government must introspect (sarkar ko apne gireban me jhankhana chaiye).They must read their manifesto, they had prepared for 2014 elections, they must read it and tell us how many of those promises have been fulfilled."
There is an atmosphere of disappointment today and the way the government is bringing ordiances forcefully has been creating a negative sentiment across the country, he said.  Pilot said of all the stalled projects only 10 per cent are stuck due to land issues, other projects are stalled because of various clearances pending.