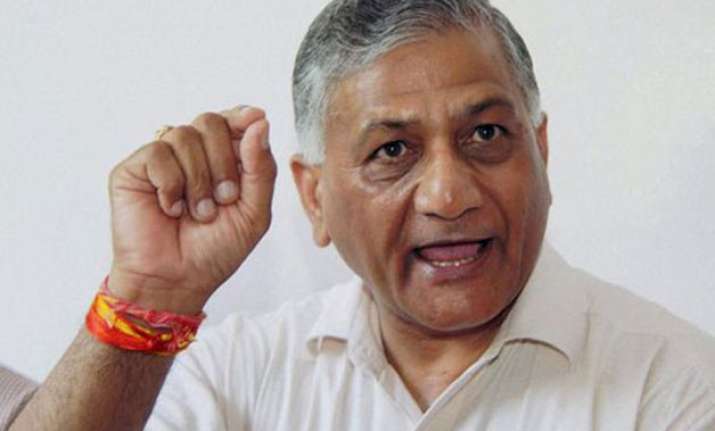 New Delhi: Union Minister VK Singh has said that government can't be blamed for incidents like killing of two Dalit children in Faridabad.
Singh, however, stoked a new controversy when he drew an analogy with the stoning of a dog.
"Don't connect the government with it. It was a feud between two families, the matter in under inquiry. If someone throws stones at a dog, the government is not responsible," he said.
The children – one two-and-a-half year old Vaibhav and the other 11-month-old Divya - had died after their house was allegedly set on fire, by a mob in Sunped village near Faridabad on Monday.
The state government, while announcing Rs 10 lakh as compensation and a job to the victims' family, has recommended a CBI probe into the incident.
Singh's remark gave fresh ammunition to opposition leaders who accused him of insulting Dalits.
Senior JD(U) leader KC Tyagi strongly condemned Singh's remark saying, "PM had in past compared human beings with dogs. VK Singh is following the footprints of Modi. Such statements made on the occasion of Vijayadashmi are anti-human. The Prime Minister should remove VK Singh. The accused of Faridabad incident are from the same cast of VK Singh."
Singh, however, later clarified his remark saying, "The dastardly and cowardly act that led to the killing of two innocent children in Haryana -- two-and-a-half-year old Vaibhav and 11-month old Divya - is a shocking reflection on the state of our society. From all indications, the horrific incident was triggered off by a feud between two families."
"Our society is made up of many individuals, and the act of every sick mind cannot be put at the door of the government, regardless of which party is in power. It does not matter who or what the political affiliations are, the perpetuators have to be dealt with without mercy. I also appeal to the media not to deliberately twist my words out of context. What I have said and continue to say is very clear, and there is no ambiguity about it," he added.