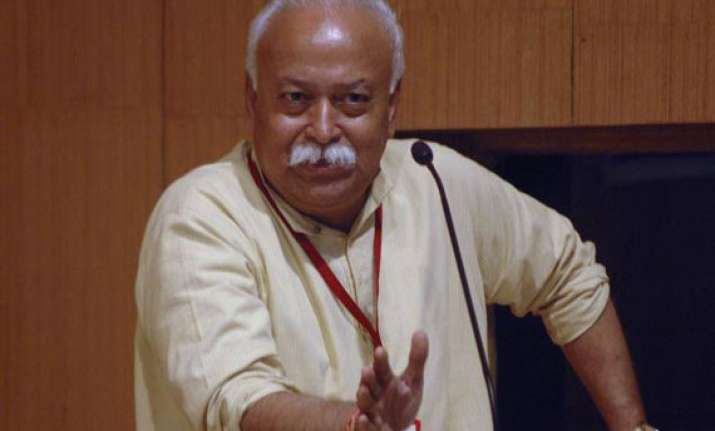 New Delhi/Jaipur: As Narendra Modi got into hectic parleys on government formation, RSS today said it may offer "suggestions if required" even as it made it clear that it is not acting as "remote control" and will not interfere in the functioning of the new BJP ministry or the party.
BJP, on its part, also claimed that Sangh has no role in the formation of the Modi government, even as several party leaders made a beeline for the RSS office in Delhi to meet top leaders.
Modi, BJP's Prime Minister-designate, has already met RSS chief Mohan Bhagwat and other senior BJP leaders including its chief Rajnath Singh have met top RSS leaders ever since Lok Sabha results were declared giving an absolute majority to the party.
"Sangh has not given any guidelines to the BJP after its historic victory in Lok Sabha polls, nor to Modiji... RSS never keeps any remote control to perform any role in politics and government," RSS national spokesperson Ram Madhav said in Jaipur.
"People's representatives who won in Lok Sabha polls are aware of the Sangh's ideology and they know how to do work and take forward its ideology. There is no way that RSS would interfere in government's functioning and politics. However, if required Sangh may give suggestions," he said.
Former BJP President Venkaiah Naidu denied RSS having any role in government formation, which he said, will be done after consultations among party leadership. He also played down meetings of BJP leaders with RSS top brass.
"The question does not arise. The Sangh never interferes in such matters," he said, when asked if RSS has a role in government formation.
Naidu, who was coming out after meeting RSS general secretary and second in command in the Sangh, Bhaiyyaji Joshi, said he has been a former president of the party and he is saying so with his own experience that RSS never interferes in matters of Cabinet or government formation.  "We are swayamsevaks. We come here to Sangh headquarters to meet our seniors. That is part of our life. There is nothing big about it."
The Sangh spokesperson said the Hindu right wing outfit never played a political role, but only for bringing a permanent and sustainable alternative.
Madhav said the RSS worked tirelessly to spread awareness about importance of voting and encouraged people to exercise their franchise, specially in favor of Modi.
"Sangh's work is accomplished, and Sangh will go back to its basic service of nation and society building, character and personality development," he said.
Madhav said the Sangh does not take credit for bringing Modi government, but for raising the poll percentage.