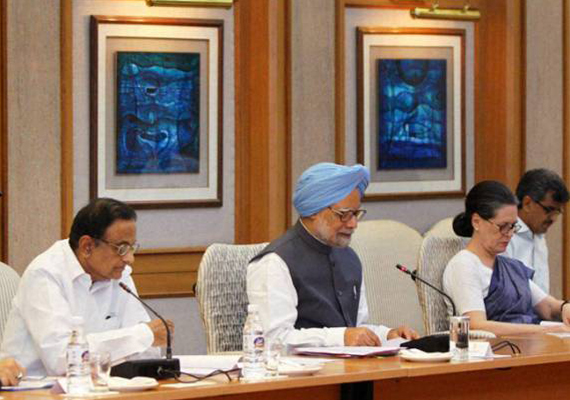 New Delhi, Aug 22: Government's plan to bring an amended Bill today to provide for reservation in job promotions to SCs/STs has been put off with most political parties on Tuesday favouring a legally-sustainable legislation in the backdrop of the Supreme Court striking down such a measure.
At an all-party meeting convened by him to evolve a consensus on the issue, Prime Minister Manmohan Singh said the government is in favour of bringing an amendment in this regard and would bring an amended Bill soon after legally examining all aspects.
"The government is exploring the possible solution of the current situation," he said at the meeting where Samajwadi Party was the only one to oppose the proposal.
Leader of many parties, including those of the main opposition BJP, suggested that the government should not rush into such a decision and bring the Constitutional amendment Bill only after carefully considering all pros and cons.
The meeting was convened in the backdrop of the Supreme  Court striking down on April 28 a decision of Uttar Pradesh government to provide reservation for SCs/STs in promotions in government jobs.
While Mayawati said she was hopeful of the Bill coming in this Session itself after the Prime Minister's assurance, SP leader Ramgopal Yadav said, "Such a Bill will not come. We will oppose it tooth and nail—even if we are alone, if the Bill comes in Parliament."
Yadav said that his party is opposed to this clause of consequential seniority as it will allow junior officers of a particular community to jump the gun and achieve seniority over their peers.
The SP leader said if the argument in favour of the Bill is accepted then it should be done for backward communities and minorities first as no other community is under-represented then them.
Sources said BJP leader
Sushma Swaraj
said while her party supports the measure, the same should not be brought in haste and needs to be examined properly.  CPI-M leader Sitaram Yechury and CPI leader D Raja also favoured bringing the Bill early.
Ram Vilas Paswan (LJP) countered the arguments against the Bill and told the Prime Minister that he should not fall in the trap (of delaying the Bill) as the same parties will later accuse the government of being anti-dalit.
In his opening remarks at the meeting, Singh said, "The government is exploring the possible solution of the current situation and asked leaders of parties present to provide "valuable suggestions so that a legally sustainable solution may be arrived at" as it would "be of immense help to the government to decide on the issue".
"You may be aware that the government had always been committed to protecting the interests of the Scheduled Castes and Scheduled Tribes and on certain occasions did not hesitate even to bring Constitutional amendments," he said.