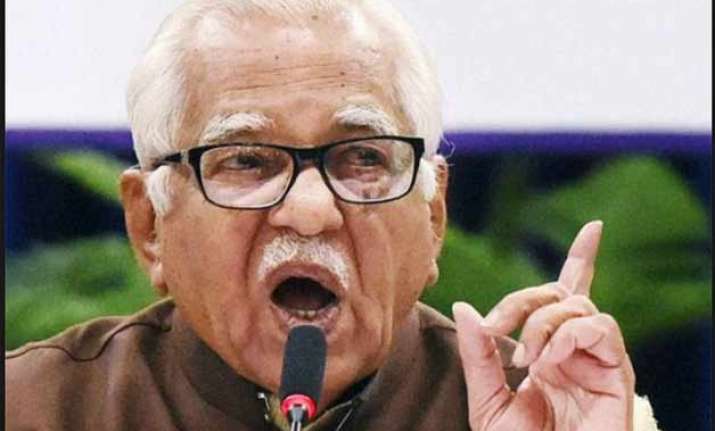 Lucknow: Uttar Pradesh Governor Ram Naik on Monday again became the target of the ruling Samajwadi Party, with its general secretary Ram Gopal Yadav accusing him of behaving like a RSS worker.
Yadav, who in the past has used caustic words against Naik, said the government was behaving as if he was the home minister of Uttar Pradesh, giving unwanted statements on the law and order situation.
"The post of governor has a sanctity and the present incumbent has been breaching the limits of his office time and again," Yadav told the media, adding he was being forced to make these comments.
The Samajwadi Party leader said Naik was silent after the lynching of the Muslim man in Dadri on rumours of beef eating last month but he was quick to respond to other communal incidents in the state.
He also accused the governor of leaking his discussions with the chief minister and said such behaviour was uncalled for and unfortunate.
Ram Gopal Yadav, a cousin of Samajwadi Party chief Mulayam Singh Yadav and leader of the SP MPs in the Rajya Sabha, suggested that Naik should be taken into the Narendra Modi government.
A former union petroleum minister, Naik, ever since he became the governor in Uttar Pradesh a year ago, has been daggers drawn with the Samajwadi Party government.
While he says he has cordial relations with the ruling party, he insists he was duty bound to point out the problems in the government's functioning.
On Monday, Naik told IANS that he was worried about the law and order situation in Uttar Pradesh, India's most populous state.
Referring to the communal tensions in 10 districts, he said he would talk to the chief minister and ask him to improve the situation.