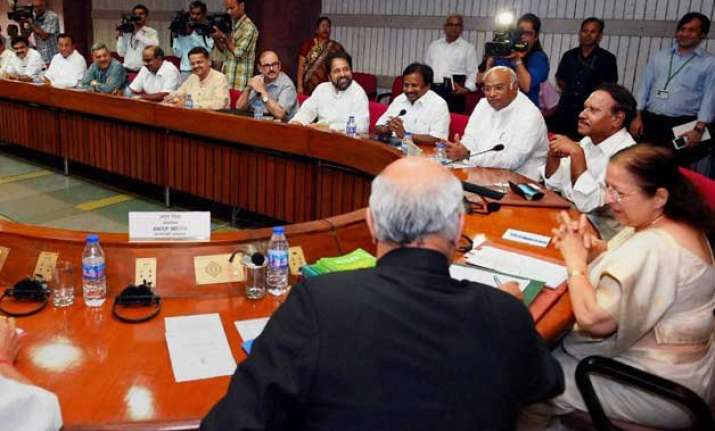 New Delhi: With parliament's current monsoon session almost washed out in the last two weeks, the Narendra Modi government said an all-party meeting would be convened on Monday to try and end the stalemate over the Lalit Modi and Vyapam issues.
"The government is always willing to find a reasonable way out of this impasse. We are ready for an all-party meeting," union Parliamentary Affairs Minister M. Venkaiah Naidu told the media here on Friday.
"We wanted an all-party meeting today (Friday). But the Congress leaders - for reasons best known to them - are still to confirm their participation. I have been talking to the leaders of various parties, including the Congress, for more than a week now and urging them to ensure normal functioning of parliament," the minister said.
"Now, we will convene the all-party meet on Monday," Naidu added.
Both the Lok Sabha and the Rajya Sabha have witnessed frequent disruptions since the start of the monsoon session on July 21, over the opposition demand for the resignations of union minister Sushma Swaraj and chief minister Vasundhara Raje in connection with former Indian Premier League chairman Lalit Modi and of Madhya Pradesh Chief Minister Shivraj Singh Chouhan in the wake of the Vyapam scam.
Naidu also denied the Congress leaders' charge that the NDA government was not interested in the functioning of parliament and that was why it didn't talk to the opposition to resolve the stalemate.
"Such irresponsible comments of the Congress leaders clearly reflect their discomfort over the situation they themselves have landed in. I would like to make it clear that it is totally incorrect to say that we have not made any efforts to resolve the stalemate," Naidu said.
He also urged the Congress to cooperate in the normal functioning of parliament.
"The Congress may claim victory by living up to their promised threat of not allowing parliament to function, but the nation has lost out very badly. In the interest of the country, the Congress should cooperate in (normal) functioning of parliament," he said.
Taking a dig at the Congress, Naidu said, "They don't want Prime Minister Narendra Modi government to succeed and earn a good name. The Congress is now indulging in a smear politics, forgetting corruption in its own backyard."