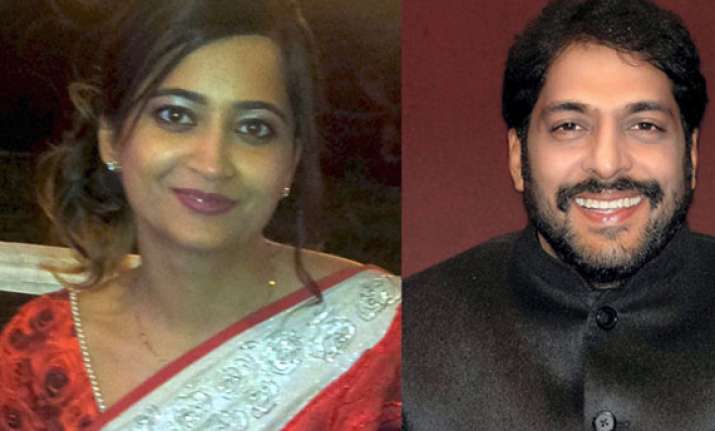 New Delhi, Aug 26: As Delhi police tries to unravel the real reason behind Geetika Sharma's suicide, it has now been revealed that former Haryana minister Gopal Kanda had allegedly bought some property in the name of his employee Geetika Sharma, and Kanda wanted his property back, police sources said.
Ever since Geetika tried her best to break off her ties with Gopal Kanda and his MDLR group, Kanda was allegedly pressurizing her to remain  association with him. The motive : to regain those properties bought in Geetika's name.
Kanda used the carrot-and-stick policy against Geetika, and once even tried to frame her in a cheque bounce case, a police official told Hindustan Times.
"Kanda issued a cheque for R3.5 lakh to pay for Sundale Education Society even though the account had been closed. He had also appointed Geetika as the chairman of the society to ensure that she was caught," said an investigating officer.
"The scrutiny of documents, seized from Kanda's MDLR office and his residence in Gurgaon, have revealed certain clues about these properties. We are analysing them further to find out details about properties purchased in Geetika's name," said the officer.
Police have also found a forged character certificate of Geetika, which claimed that there were some criminal cases pending against her in Gurgaon.
The same certificate was sent to Emirates in Dubai, where Geetika was working in 2010, on the basis of which she was sacked from her job.
"We found that the stamp on that certificate was of Civil Lines police station in Gurgaon while it was issued by the station house officer of a different police station," added the officer.
Investigators are looking for four mobile phones of some MDLR employees, including Geetika's, which she had returned after quitting the company in December 2011.
Police said Kanda was using three mobile phones registered in the name of his employees for calling up Geetika and sending her SMSs.
Geetika  was reportedly under pressure to sign over some property to Gopal Kanda in the days leading up to her suicide, reports Times of India.
Police believe the former Haryana minister had bought several Gurgaon properties in Geetika's name with or without her knowledge but when she turned cold towards him, he started demanding their transfer.  
They are examining documents seized from the MDLR office to confirm this.
A missing phone with the number 84470000** may also hold some answers to the case, police believe, as it was Geetika's official phone while she worked with Kanda's MDLR Group. 
She had returned it in April and was using her personal number 90133471**,which police have seized. 
Police say the numbers from which Kanda and his manager Aruna Chaddha called Geetika may be saved on the missing phone.
They want to tally these numbers with those from which around 400 messages were sent to Geetika, to prove that Kanda was harassing her.
But they haven't got the text of the messages so far as the service provider has withheld it. 
Geetika's family had alleged that Kanda sabotaged her career, and police regard one of her mails to Kanda and Chaddha as a confirmation of this.
The mail reads:   "some experiences in life cannot be forgotten or forgiven; I will make my career no matter how many obstacles one puts in my way."
Police are also trying to establish a money trail using several account numbers they have found.
This has become important after they learnt about a cheque for Rs 3.5 lakh issued to a society from Geetika's account.
The cheque had bounced,allegedly giving Kanda a chance to threaten her with implication in the case.
The recovery of another mail has increased chances of MDLR executive Shivroop Babbar's arrest, sources say.
On August 10,2010, the HR personnel had sent a mail to Geetika's then employer, Emirates, allegedly  at the behest of Kanda and Chaddha, stating: "Dear sir, There are dues pending on Geetika,  who was earlier working at MDLR.  All document clearance from our HR is fake. "
The mail also states that a complaint regarding Geetika had been lodged with the Gurgaon SHO even though the attached letter bears the stamp of the Civil Lines police station near Kanda's house.
Sources say Ankita,who is named in Geetika's suicide note, may join investigation on Monday.
Police want to confront Ankita with Gopal Kanda before his three-day custody expires, to find out whether he was forcing Geetika to withdraw the case against her.
Goa Police has reportedly disclosed that Ankita stated the name of her husband as Gopal Vardhman Kanda.