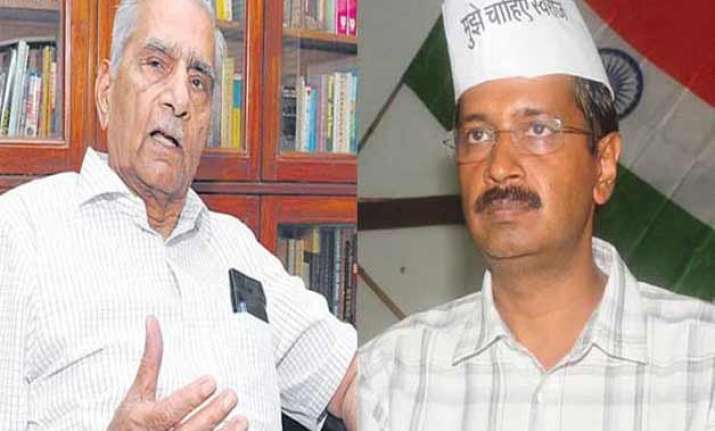 New Delhi: Shanti Bhushan , senior lawyer and founder member of Aam Aadmi Party, has said that the internal democracy in the functioning of the party is of paramount importance.
In a letter to the party's national executive on Tuesday , Bhushan said, "The functioning of the party was to be democratic, which gives tremendous strength to the party, he said while stressing that democracy thrives and works through political parties.
He sought to build a robust all India organization to function in all corners of India within six months.
He also suggested that party should work to make a meaningful impact in the national politics.
He said, "The victory of Aam Aadmi Party in Delhi has proved that the kind of politics that the Aam Aadmi Party was established for is being accepted by all strata of people at least in a metropolitan city."
"AAP's brand of politics had as its core values, secularism, no casteism, totally issue based and corruption free politics, to solve the problems that the people faced, particularly the poor sections of society," he said.
His letter comes in the wake mounting attack on Yogendra Yadav, another senior functionary , who along with Bhushan, has questioned the functioning of the party.
Earlier in the day, AAP chief Arvind Kejriwal said he was "hurt and pained" by what was going on within the party, describing it as an "ugly battle" which has "betrayed" the trust imposed by the people.
Delhi chief minister Kejriwal, who is also party's national convener, refused to be drawn into the "ugly battle", saying he will focus on Delhi's governance.
"Will not let peoples trust break under any circumstances," he further said.
Kejriwal's tweet came after Prashant Bhushan's admission in TV interview that there had been a breakdown in communication between him and Kejriwal.
Bhushan also said that "I can't follow the high command culture".
AAP has convened a meeting of its national executive tomorrow to discuss on all issues, including the latest controversy over differences in the party.