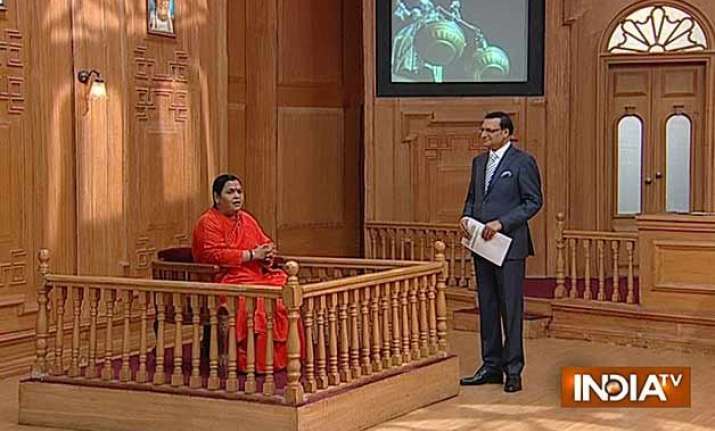 New Delhi: BJP leader and Union Water Resources Minister Uma Bharti has admitted that she has now mellowed down after being given the task of Ganga rejuvenation.
 "Earlier, I was a firebrand, but now I have become a waterbrand", she told Rajat Sharma in the show "Aap Ki Adalat" to be telecast tonight on India TV.
Uma Bharti said, she had no ambition of becoming the chief minister of MP again.
"I had become chief minister by defeating the Congress with three-fourth majority, but one incident changed the course of my life. Modiji has entrusted me the work of cleaning up the Ganga. Even if Lord Indra comes and offers his throne to him, I will refuse. I will tell Lord Indra, Sorry, Thank You".
Uma Bharti said: "The day before the swearing-in ceremony, I met Modiji and told him I wanted Ganga. The portfolio of Ganga rejuvenation was earlier with former PM (Manmohan Singh). So, now from firebrand, I have now become waterbrand."
The Water Resources Minister promised to clean up a major part of the Ganga in the next 10 years. "Call me to this Adalat show three years from now. Either I will die, or I will clean up the Ganga", she said.
Praising Prime Minister Narendra Modi, Uma Bharti said, "I would rather like Modiji to continue as PM for three more terms. The nation needs him, because we will spend two to three years of our current tenure in filling up the potholes left behind by the previous government."
Uma Bharti said, the Prime Minister has brought discipline not only among party leaders, ministers, but also bureaucrats.
"For the first time, a PM has brought about discipline in the government. This discipline is for the leaders, for ministers, and for bureaucrats. Those who are not in the habit of following discipline, they then start fearing".
Uma Bharti said, PM Narendra Modi has the qualities of most of the previous Prime Ministers.  
"Modiji has got the same love and affection of people that Pandit Nehru got in his time, he is a strong administrator like Indiraji, he has the youthfulness of Rajivji, and also the statesmanship of Atalji. All these four qualities are present in a single man".
On Arun Shourie's remark that the 'Trimurti' of Modi, Amit Shah and Arun Jaitley is controlling both the party and the government, Uma Bharti replied: "Arun Jaitley's words as Finance Minister are heard in rapt attention by even Congressmen inside Parliament. Amit Shah's sagacity is accepted even by his political rivals in other parties. Modiji is praised all over the world.
"If this Trimurti will not run (government and party), then who will run. This Trimurti must continue. I would rather say, they are Brahma, Vishnu and Mahesh", said Uma Bharti.
On the controversial Vyapam scam, Uma Bharti strongly defended MP chief minister Shivraj Singh Chouhan and said there was no need for him to resign.
"Shivrajji is not involved in corruption. Why should he resign? I am fully with Shivrajji and would rather say that he is running the state government better than me. He has more patience than me", Uma Bharti said.
The Union Minister clarified that she was wrongly reported in the media about living in a state of fear in Madhya Pradesh.
"I never said, I fear for my life. I told the TV channel that I went to jail for hoisting the tricolour, I went to jail for Ayodhya, and if I have to go to jail for taking bribes for appointing a few chaprasis, I would rather prefer to die."
Uma Bharti, however said, she was pained when she found out that an FIR about her family priest Liladhar Pachauri, who was staying in her servant quarters,  recommending 17 names in Vyapam scam, was leaked out to the media, and it was reported that she could be interrogated. "That really shakes one's sense of respect".
She clarified that all the 17 persons whose names were recommended, later  told the STF that Uma Bharti had no role in it.
Lashing out at Congress leader Rahul Gandhi for his "suit boot ki sarkar" remark about Modi, Uma Bharti said, this reflected a feudal mindset. "Let Modiji, who hails from a poor family, wear good clothes, and if Rahul needs, I can get good clothes stitched and sent to him."
Uma Bharti also defended External Affairs Minister Sushma Swaraj and Rajathan chief minister Vasundhara Raje for their reported links with former IPL chief Lalit Modi.
"So far, Sushmaji's involvement in Lalit Modi's business has not been proved. She only responded on humanitarian basis and helped Modi to visit Portugal. We can't say that Sushmaji is corrupt.
"As far as Vasundhara is concerned, the families of Gujarmal Modi and Scindias had been friendly through generations. The Congress even dragged the matter of Vasundhara's palace into it.  This shows that the Congress is least interested about raising corruption charges."
Uma Bharti in Rajat Sharma's Aap Ki Adalat will be telecast tonight at 10 pm on India TV. The repeat telecasts will be on Sunday (July 12) at 10 am and 10 pm.