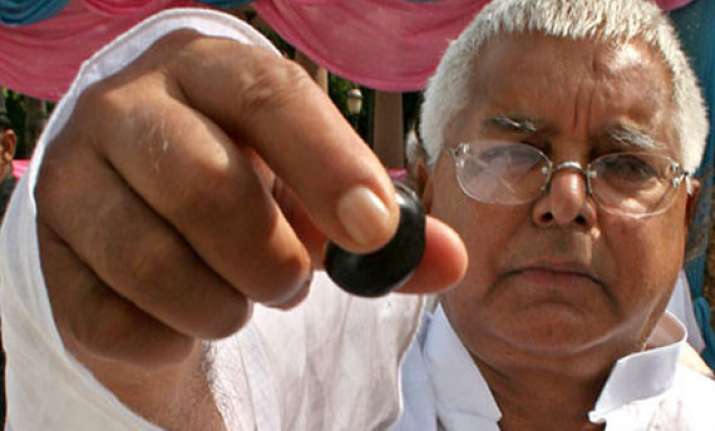 New Delhi, Jul 9: A week before pronouncement of verdict in a 17-year-old fodder scam case involving him, RJD Chief Lalu Prasad has questioned the impartiality of the judge trying the matter in Jharkhand before the Supreme Court which today ordered an interim stay on the passing of judgement.
The RJD Chief, who along with the other accused was put on trial 11 years ago, has raised questions on the impartiality of special CBI judge P K Singh after the verdict was reserved, alleging that he is biased as he is a relative of P K Shahi, the Education Minister in the government of Nitish Kumar, whom he termed as his "biggest political enemy".
Agreeing to hear the plea of the former Bihar Chief Minister, the apex court said that the issue raised by him requires examination and issued notice to the state of Jharkhand and the CBI, which is investigating and prosecuting agency in the fodder scam.
A bench comprising justices P Sathasivam and J Chelameswar, however, said that it would dismiss the petition if CBI refuted the allegation of any biasness on the part of the judge of the trial court.
The apex court issued notices and granted two weeks time to CBI and the state of Jharkhand to respond on Yadav's petition and posted the matter for hearing on July 23.
Lalu approached the apex court after the Jharkhand High Court on July 1 dismissed his plea to transfer the case to another special CBI court.
The HC had held that nothing was placed before it by Lalu to prove that the judge does have any association with Shahi except that he is "distantly" related with him.
Senior advocate Ram Jethmalani, appearing for the RJD supremo, said that there is apprehension of bias as the judge is related to a minister in the government of Nitish Kumar, "who is his (Yadav's) biggest political enemy".
The bench, after a brief hearing, granted an interim stay on the pronouncement of verdict by the trial court which was to be delivered on July 15.
In the petition, Lalu alleged that the younger sister of the the presiding judge has been married to the cousin of P K Shahi who, besides appearing for his political rival, is also presently a minister in Nitish Kumar government.
The case pertains to alleged fraudulent withdrawal of Rs 37.7 crore from Chaibasa Treasury in the 1990s.
The FIR was lodged by Bihar government in February 1996 but the case was later on transferred to CBI a month after.
The CBI investigated the scam for a year and charge sheet was filed in 1997. The charges were framed in 2000 following which the Special CBI Court commenced trial against Lalu and 44 other accused.