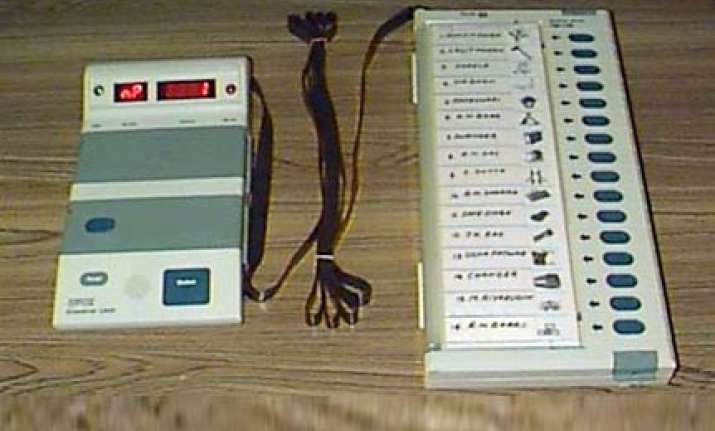 New Delhi, Oct 8:  Acting on the suggestion of political parties for a paper backup in Electronic Voting Machines to enhance people's confidence, the Election Commission has decided to refer the issue to its Technical Expert Committee.
The Commission has decided to refer to the Technical Expert Committee for detailed examination of 'voter verifiable paper trail' in EVMs in all its aspects through a process of wide consultation, the EC said in a press note today.
The three-member committee headed by P V Indiresan, former Director of IIT, Madras, would submit its report to the EC for consideration.
The EC has decided to refer the issue to the Committee following demands by some political parties including BJP for a paper trail on the use of EVMs to enhance the confidence of the voters.
Besides use of EVMs, the Commission during the meeting with political parties early this week had discussed such as money power in elections, paid news in connection with elections and criminalisation of politics.
Political parties appreciated the measures and recognised the fact that EVMs have been used effectively in elections for more than a decade, the EC said adding there was consensus among parties for the continued use of EVMs.
On the issue of abuse of money power in elections, the EC said there was consensus among political parties that the instructions of the Commission should be implemented with firmness and cases should be pursued vigorously to book offenders.
The EC also appealed to the parties to exercise self regulation and restraint with regard to expenditure, it said.
The political parties also rejected the EC's suggestion that audit of their annual accounts be done by a Chartered Accountant from a panel appointed by the CAG or the EC.
The parties were of the view that this was not required as they themselves were getting their accounts audited through their auditors and submitting annual returns to Income Tax authorities.
Besides exploring the possibility of state funding of elections, the parties expressed the view that the ceiling on election expenditure should be raised in view of inflation.
The maximum limit of election expenses at present is Rs 25 lakh for a Lok Sabha constituency and Rs ten lakhs for an assembly constituency.
Acknowledging that the recent phenomenon of "paid news" was a serious threat to democracy, political parties agreed that amendments might be required in the Representation of the People Act and include it in the list of corrupt practices.
One of the steps suggested was that an Expert Committee of eminent jurists, media persons and others be constituted by the EC to develop effective methods of identification and accounting of paid news, the press note said.
On the issue of criminalisation of politics, the political parties expressed the view that no change was called for in the present law which disqualifies a person only on conviction.
The political parties also assured the EC that they would exercise more self regulation in the matter while fielding candidates, the press note added. PTI