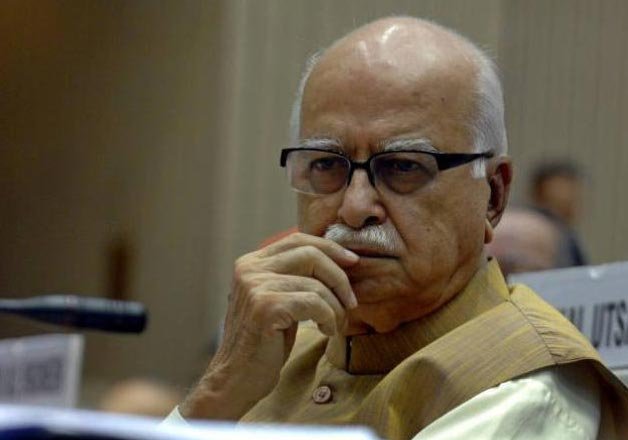 Bharatiya Janata Party (BJP) patriarch Lal Krishna Advani said that he fears a return of an emergency like situation in India as "forces that can crush democracy are stronger" now.
"At the present point of time, the forces that can crush democracy, notwithstanding the constitutional and legal safeguards, are stronger," Advani said in an interview ahead of the 40th Anniversary of the Emergency.
"I don't think anything has been done that gives the assurance that civil liberties will not be suspended or destroyed again. Not at all," he added.
The Lok Sabha MP also recalled his nineteen-month stay in jail during the emergency and said that the 'crime perpetrated by Indira Gandhi government has still to be fully acknowledged and owned up to'.
During the emergency, the leaders and activists of the Janata Morcha were imprisoned. After the 1977 elections were called, the constituents of the Janata Morcha formally launched the Janata Party on January 18, 1977. The Janata Party successfully won the general elections and formed the first non-Congress government of India.
Here we bring to you Advani's blog which he penned in 2010:
MEMORIES OF THE EMERGENCY
Today, India commands respect in the world, not only because it is perceived as an emerging economic power, but also because from among the developing countries, it is the only one that has been functioning as a vibrant and vigorous democracy.
Within the country, however, many are blissfully unaware that in June 1975 we came very close to a situation when the ruling party wanted to bury multi-party democracy and introduce a single party set up. In my blogs this month, therefore, I have been consciously trying to recall the happenings of the Emergency inflicted on the country on 26th June, 1975.
The country needs to be intensely alive to this phase of independent India's history. Allowing this phase to be forgotten would be tantamount to doing a grave disservice to Democracy!
As I pointed out last week two events that took place on 12th June, 1975 led to the Emergency. And the Emergency brought to the surface the innate distrust some leaders of the ruling party have always had for democracy. Smt. Gandhi herself once said those days: "The nation is more important than democracy".
The National Herald, the daily paper in Delhi started by Pandit Nehru, wrote an editorial then praising the one party system in African states like Tanzania as being no less virile than the multi-party system. The paper observed:
"The Westminster model need not be the best model, and some African states have demonstrated how the people's voice will prevail whatever be the outward structure of democracy. By stressing the need for a strong Centre the PM has pointed out the strength of Indian democracy. A weak Centre threatens the country's unity, integrity, and very survival of freedom. She has posed the most important question: If the country's freedom does not survive, how can democracy survive?"
***
Numerous books have been written on the Emergency of 1975. Most of these have been written by Mrs. Gandhi's critics. These days I am going through an interesting book written by an admirer of hers, Uma Vasudev, a well known journalist who shortly before the imposition of the Emergency had an appreciative book published about her with the title "Indira Gandhi - Revolution in Restraint."
But the Emergency and all that happened during that period deeply disturbed her.
The upshot was yet another book about the same leader titled "Two faces of Indira Gandhi".
The book opens with this passage :
"Sitting out in the political cold in the hills of Pachmarhi in June 1976, six hundred miles away from India's capital, Pandit Dwarka Prasad Mishra, Indira Gandhi's master tactician and confidant in her battle for intra-party supremacy in 1967-69, related an anecdote to an administrator friend calling on him: "There was a political prisoner I knew in the thirties who was so fond of his pet cat that he was allowed to keep it with him in his cell. One day his nerves cracked and he beat the cat blue. The cat sat cowering in a corner, not knowing where to turn, for the cell door was locked and it was trapped. Each time its one-time protector would come near, it would shrink against the wall and whimper. The jailor heard the cries and came running. As soon as the cell door flew open, the cat, instead of rushing out, leapt at her owner's throat in such ferocious anger that he nearly died before they could release its grip. The moral of the story is," said Mishra as his tiny eyes gleamed behind his glasses, "that if you want to hit the enemy, you must leave a way out for him. Otherwise his despair can make him a killer."
The reference was Maoist but the application was nearer home. It was one year since Indira Gandhi had declared an internal emergency in India on 26 June 1975. The opposition elite was still in jail, including such big names as Jayaprakash Narayan, Morarji Desai, Atal Behari Vajpayee, Raj Narain, L.K. Advani, and Piloo Mody - together with men from her own Congress Party like Chandra Shekhar, Mohan Dharia, Krishan Kant, Ram Dhan, and P.N. Singh. Censorship of the media was still in force. Argument and dissent were mouthed in whispers, while rumour aggravated fear. The politician and the intellectual subsisted in uneasy confrontation, the area of direct knowledge became narrower and narrower, and truth seemed to have more than the seven colours of the rainbow."
Continuing with this line of analysis, Uma Vasudev writes in the last chapter of her book captioned "Dark Side of the Moon" :
A determined old man walked into Bangalore's jail one day in June 1976. He wanted to see Lal Krishan Advani, president of the Bharatiya Jana Sangh, who was incarcerated there with a hundred other detenues since the bleak dawn of the emergency. When Advani appeared before him, the man saw a tall, slim, distinguished-looking and fair Sindhi, with very regular features, a moustache, and a quiet manner which gave nothing away.
"Well ?" smiled Advani.
"I'm sixty-five," the man burst out. "I can't stand what she's doing. I've done whatever I wanted to. I've nothing more to live for. Tell me what to do. I'm prepared to die. I can go and shoot her".
"No," said Advani.
But the average worker inside the jails was getting impatient. There was a growing feeling that the leadership within was becoming complacent and that there were no plans towards a new move.
"You seem to think there's no need to do anything any more," complained Advani's companions in prison.
No authoritarian regime had been overthrown by violence, thought Advani. There was no alternative but to wait for the people to rise.
"There was so much anger against Indira Gandhi at the time. Do you think she might possibly have been assassinated then, or if she had managed to scrape back to power later ?" I asked.
"Considering the extent to which she had gone, she might have, perhaps - had this been another country. But not in India. India is too big and it's not in the temper of the people; otherwise, it would have happened even earlier. Besides, the leadership of the political forces opposed to her is positively opposed to this kind of thing also. They disapprove of these measures. There is too strong a commitment to peace." Said Advani.
Press censorship during the emergency was extremely strict. Criticism of the Government, the ruling establishment or even of the Emergency was not permitted.
I was therefore surprised to receive in Bangalore jail where I was kept for the greater part of those nineteen months a copy of the QUEST (a quarterly journal from Mumbai dated Nov.-Dec., 1975), which carried an article by Ashis Nandi which in substance said to the rulers that if you persist with your present course of action you would be inviting assassination. The article bore the tell-tale title "Invitation to a Beheading : A psychologist's guide to assassinations in the third world.
An excerpt from this article read :
"The relationship between an assassin and his victim is deep and enduring. Death only openly and finally brings them together. Of course, there are tyrants who turn virtually everyone in a country into a prospective assassin and leaders who build bastions against their assassination in the minds of men, thereby reducing the circle of prospective assassins to the microscopic group of hired psycho-paths and the mentally ill.
Emperor Nero belonged to the first category and Martin Luther King to the second. There is also the special case of rulers who by the consent of the majority are tyrannical within the country and, to the extent they get the chance, in the world outside. Their pathology leads to collective suicides rather than individual assassinations. Adolf Hitler is the hackneyed but glaring example of the species. But such leaders are hardly typical. There is a much broader range of situations where the ruler is popular and charismatic but propelled by his inner drives, prepares the ground for his assassination. In such cases there is a close fit among the motivational imperatives of such a man, his attempts to remould the polity after his own psychological needs, and the type of invitation he extends to his potential assassins.
The first characteristic of such a ruler is an inability to trust deeply and wholly. Though his flamboyant style may hide it for a long time, he lives in an inner world peopled by untrustworthy men. Even when he trusts some, it is transient. A chain of lieutenants comes in and goes out of his favour in a fashion reminiscent of people getting in and out of a railway compartment.
The ruler suspends this suspiciousness only in the case of his family members, men recruited from outside politics to act as 'commissars', and politicians who have no independent bases and are fully dependent on him..."
***
When Uma Vasudev met me after my release and had a long discussion with me about the Emergency happenings, the National Herald's advocacy of a one party setup like that of Tanzania, (a point that her book referred to above had also mentioned) came up in the discussion. Ms. Vasudev said to me: But is it not true that while this editorial was written on August 11, a fortnight later, on August 25 the same newspaper wrote:
"The PM has made it clear in recent days that there will be no attempt to establish a one party system in this country and that she is not thinking in terms of a constituent assembly or a new Constitution. As far as the party system is concerned, the one party system, however well it might answer needs theoretically, will not be forced; it can come about only in the course of natural evolution, and at present there is no such prospect."
Uma Vasudev, after citing this statement of the Prime Minister, asked me: "What happened between August 11 and August 25 ?"
My immediate answer was: "Mujib's assassination on August 15", I added: "That gave her a shock; and made her realize that the kernel of Democracy must be maintained."
L.K. Advani
New Delhi
19th June, 2010