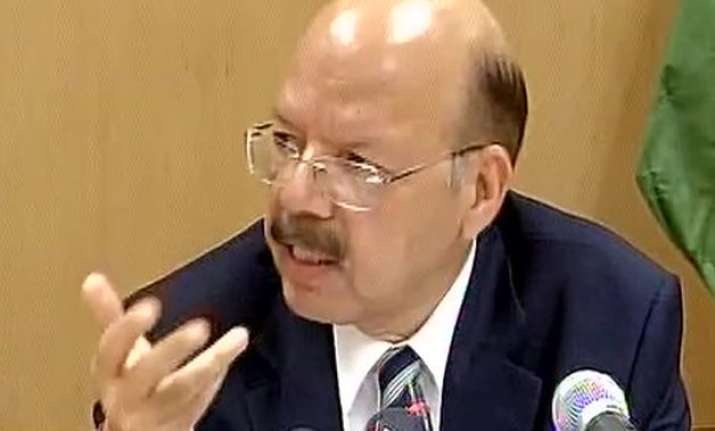 New Delhi: Election Commission of India today announced the schedule for assembly polls in five states – Assam, West Bengal, Tamil Nadu, Kerala and Puducherry
The polling will be held in 2 phases in Assam on April 4 and 11. In West Bengal, the polling will be held in 6 phases starting April 4 and ending on May 5.
In the remaining 3 southern states, polling will be held in a single phase on May 16.
Counting of votes for all 5 state assemblies will be held on May 19.
Addressing the media, CEC Nasim Zaidi also announced that the EC will introduce a symbol for the NOTA option on the EVMs instead of the word.
Complete poll schedule:
Puducherry (1 phase)
* Polling on May 16 for all 30 constituencies
Tamil Nadu (1 phase)
* polling on May 16 for all 234 constituencies
Kerala (1 phase)
* Polling on May 16 for all 140 constituencies
West Bengal (6 phases)
* 1st phase polling (all LWE areas) on 2 days -- April 4 for 18 constituencies and April 11
* 2nd phase polling on April 17
* 3rd phase polling on April 21 for 62 constituencies
* 4th phase polling on April 25 for 49 constituencies
* 5th phase polling on April 30 for 53 constituencies
* 6th phase polling on May 5 for 25 constituencies
Assam (2 phases)
* 1st phase polling on April 4 for 65 constituencies
* 2nd phase polling on April 11 for remaining 61 constituencies
Read Also: Will BJP-AGP alliance succeed in dethroning 15-year long Congress govt in Assam?
* Counting on May 19
* More than adequate central paramilitary forces to be deployed. As far as possible, in WB and Assam, all polling locations to be monitored by Central Police Forces: CEC
* 5 central observers in each district to oversee election process. An effective monitoring of preventive actions against anti social elements commences today: CEC
* Will ensure that no one is prevented from expressing their mandate by way of intimidation or such means: CEC
* Photos of candidates to remove confusion in minds of voters about candidate identities. CEC appeals to people to chek their names in electoral roll and enroll themselves as voters if not already done.
* VVPAT - paper based audit trail - in 64 assembly constituencies: CEC
* Symbol for NOTA option on EVMs introduced: Zaidi
* Model code of conduct comes into existence with immediate effect in all poll bound 5 states: CEC
* Over 17 crore electors to participate in the upcoming assembly elections. 824 Assembly Constituencies are going to poll across four states and one Union Territory: Nasim Zaidi
The upcoming states elections are crucial for both BJP and Congress as the former has faced defeat in Bihar assembly polls while Congress party, which is in power in Assam and Kerala, has key stakes to retain in this election given the rapidly shrinking list of states where it is in power.
The terms of Tamil Nadu, Kerala and West Bengal governments end in May, while that of Assam and Puducherry end in June.