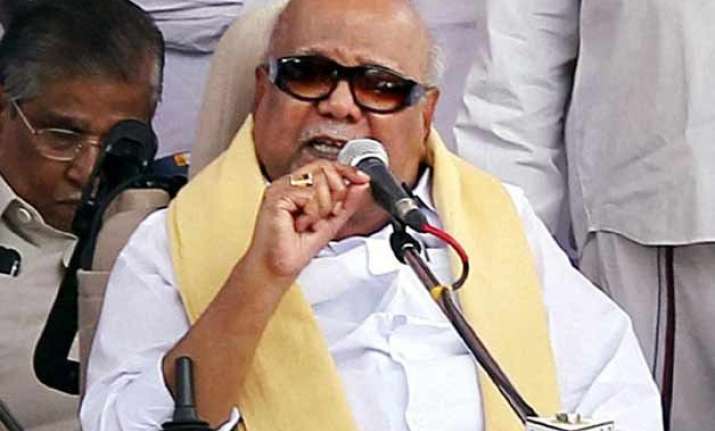 Chennai: Describing the gunning down of 20 woodcutters from Tamil Nadu in Andhra Pradesh as unprecedented and "a big human rights violation", DMK today called for a judicial enquiry into the episode and urged the Tamil Nadu government to take steps in this regard.
"Such an incident of 20 persons being gunned down by police has not happened before. Reports indicate that the innocent workers were brought to the spot at night, their hands tied and were later shot at," DMK president M Karunanidhi said, adding it was a "big human rights violation".
He said it was also being alleged that red sanders logs were placed near the victims' bodies after they were killed, adding that the "atrocious" incident involving police personnel from Andhra Pradesh had caused outrage in Tamil Nadu.
"Therefore, a judicial enquiry should be undertaken to ensure that truth emerges. The Tamil Nadu government should take serious steps for this," he said responding to a set of questions in party mouthpiece 'Murasoli'.
As many as 20 woodcutters were gunned down near Tirupati on April 7, 2015, with police personnel alleging them to be red sanders smugglers.
Meanwhile, Karunanidhi also urged the Centre to reject Dr B Meenakumari Commission report on deep-sea fishing policy, claiming the recommendations were inimical to the interests of domestic fishermen.
"It is being said that the recommendations favour foreign fishing firms," he said, adding fishermen were already protesting against the report.
He also questioned why the state government had not brought the issue to the notice of the Central government or Prime Minister Narendra Modi.