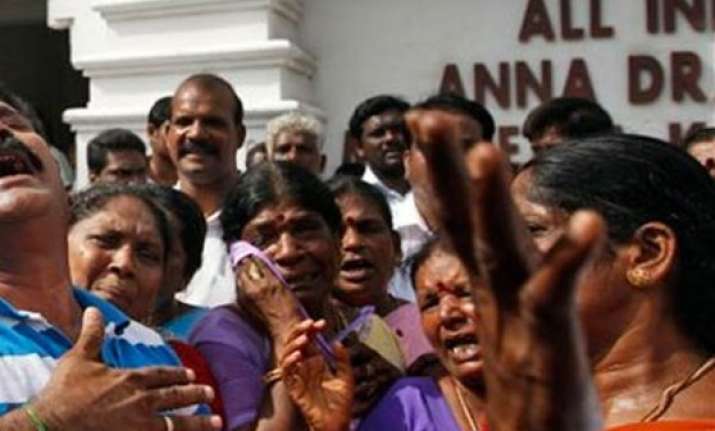 Chennai: Launching a full-blown attack on ruling AIADMK, DMK today alleged that Tamil Nadu was facing an 'undeclared emergency-like situation' in the aftermath of Jayalalithaa's conviction in a graft case and sought Centre's intervention to put an end to the 'atrocities' unleashed by AIADMK supporters.
A meeting of DMK's district secretaries, headed by its chief M Karunanidhi convened to take stock of the situation, slammed the AIADMK's three-and-a half year rule during which, it claimed, people faced problems in the areas of law and order, power supply and price rise.
The DMK flayed criticism against Bangalore Special Court Judge John Michael D'Cunha, who convicted Jayalalithaa in the disproportionate assets case, and Karunanidhi, saying they were portrayed in an 'indecent manner' by agitating AIADMK supporters.
In many places, protests were being held without police permission, causing hardships to road-users and public even as government buses were bearing the brunt of the AIADMK men's ire, one of the resolutions passed at the meeting said.  
It said AIADMK supporters seemed to be 'least bothered' if it was proper on their part to personally attack Judge D'Cunha and criticise his judgement, sentencing Jayalalithaa to four years in prison and imposing a Rs 100 crore fine, which was delivered by a 'responsible court within legal provisions.'
"Tamil Nadu is being forced into an undeclared emergency with the AIADMK men unleashing a regime of violence," the resolution said and alleged police were not in a position to control the situation and also were aiding the ruling party.  
There was a complete breakdown of constitutional machinery in the state, and if this situation was allowed to continue, law and order situation would deteriorate beyond control and would hugely affect public peace, it said.  
Condemning the violence by ruling party activists, the meeting urged 'Central government should immediately intervene and put an end to these atrocities'.
Karunanidhi had on Tuesday said that the onus of maintaining law and order wrested with the government, as parts of the state witnessed sporadic protests after the Karnataka High Court rejected the bail plea of Jayalalithaa who has been sentenced to a four year jail term in the Rs 66.65 crore disproportionate assets case.