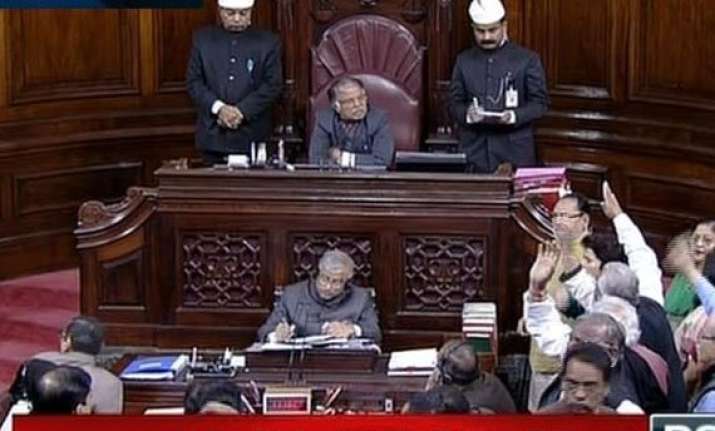 New Delhi: Acrimonious scenes were witnessed in the Rajya Sabha today with DMK members blaming AIADMK supremo J Jayalalitha over the death of infants in Dharmapuri district hospital.
Members from the two sides sparred when DMK member Kanimozhi sought to raise the issue during Zero Hour.
She alleged "medical negligence" behind the death of 16 children in the area saying this involves "serious issues of human rights violation".
AIADMK members were on the feet shouting slogans and seeking to prevent Kanimozhi from raising the issue when she read out from a paper in the din.
Kanimozhi said the Tamil Nadu Chief Minister must explain why the maternity benefits did not reach women, which led to their malnutrition that caused the death of the children.
She urged Union ministers for Health and Women and Child Development to ensure that lactating mothers are taken care of and the malnourishment issue of women is addressed.
The AIADMK members, who were already agitated, reacted sharply at this saying an allegation has been levelled against their Chief Minister and their leader in the House should be allowed to speak.
Deputy Chairman P J Kurien said if there has been any allegation, he will look into it and snubbed AIADMK leader in the House A Navaneethakrishnan for allowing his party members to create noise in the House.
As soon as Kurien called Kanimozhi (DMK) to raise the issue, AIADMK members led by Navaneethakrishnan were up on their feet saying a state subject cannot be raised in Parliament.
"Let me hear what she is speaking," Kurein said. "This is not the way. If there is anything objectionable or allegation, I will give you a chance to respond."
He said the matter Kanimozhi wanted to raise was allowed by Chairman Hamid Ansari.
Navaneethakrishnan said the issue being raised is "contrary to truth".
"If it is contrary to truth, you can take it up. I will tell you what to do," Kurien said.
"If Honorable member is misleading the House, there are rules to deal with it. No member can mislead the House. If the member misleads, then there are rules to deal with it," he said asking the two Tamil parties not to bring their fight to the House.
While the state government had said that malnourished mothers were the reason for the deaths, a media report said most mothers from this backward district do not get maternity benefit in time and that 50 per cent of expectant mothers in Dharmapuri, a backward area, are malnourished.
Opposition parties in Tamil Nadu have demanded a probe in the incident.