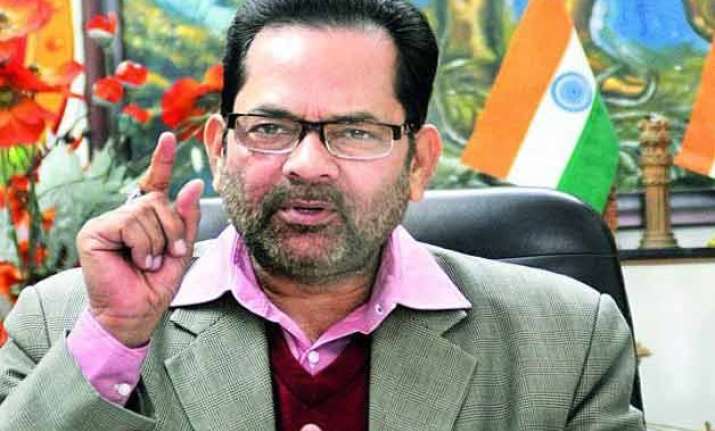 Rampur (UP):   Amid reports of delay in the merger of Janata Parivar parties, Union Minister and senior BJP leader Mukhtar Abbas Naqvi today took potshots at the alliance constituents, which he said have divorced even before tying the knot.
Commenting on the merger of about half a dozen anti-BJP dispensations, the Union Minister in Narendra Modi government said, "it has presented a scene of 'shadi se pehle talaaq' (divorce before marriage)."
He added "the partners of the said conglomerate do not carry ideological commitment but undoubtedly they had united under a singular theme and that was to check BJP from coming to power."
Naqvi, while talking to PTI today, said, "Such alliances emerging on shallow foundations fall within a short span of time and the same is going to happen with the so-called secular anti-BJP conglomerate."
The MoS Parliamentary Affairs and Minority Affairs further took jibes at the Janata Parties over the reported tussle of seat sharing in Bihar Assembly polls between the Nitish Kumar-led Janata Dal (United) and the Lalu Prasad-headed Rashtriya Janata Dal.
"So far JD(U) and RJD have openly attacked each other on the question of seat sharing and if other partners of the alliance also placed their claims for multiplication of seats to contest the coming state legislature's election they might need constituencies in four figures," Naqvi said.  
Also, reacting to West Bengal Chief Minister Mamata Banerjee's statement that TMC would never join hands with BJP, the Union Minister said the Prime Minister wanted her to come together on the issues of development for the state.