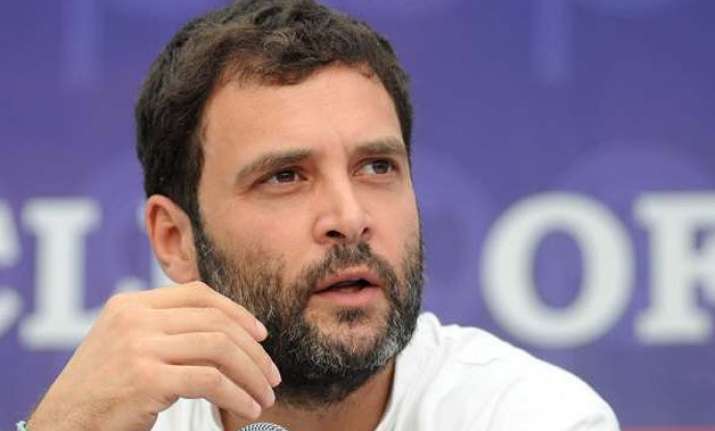 New Delhi: The return of Rahul Gandhi is hogging media headlines across the country.
The Congress is holding a Kisan rally on April 19 that will be addressed by the Congress vice-president.  Since this will be Rahul Gandhi's first rally after his return from 59-day vacation, the rally is being termed as his comeback rally.
What is worrying for Rahul is the fact that in his first comeback rally, different factions of Congress have decided to appear differently in order to showcase their respective strengths.
The leaders of Congress in Punjab and Haryana have found an unusual way to show their strength and support in the rally and impress their leaders.
Former Haryana Chief Minister Bhupinder Singh Hooda has asked his supporters to participate in the rally wearing pink turban to overshadow Haryana Congress chief Ashok Tanwar who does not see eye-to-eye with him.
Hooda's is pre-planning the things as he held a meeting last week and asked his supporters to wear pink turbans so that they may be distinguished at the rally.
"Desh Haryana ke kisanon ka gulabi pagri wala jalwa fir se dekhna chahta hai (Country wants to see the pink turban show of the Haryana farmers). This decision was taken in Delhi in the presence of senior leaders such as Ahmed Patel, Digvijaya Singh and Shakeel Ahmed. We shall ensure that Delhi turns pink on this day," said Haryana Congress spokesman and a Hooda confidant Ran Singh Mann.
However, Hooda was a bit cautious. "They may wear anything. How does it matter? But we will have maximum presence. All is set for the rally," Hooda said.
Despite the fact that the party high command had appointed Kiran Choudhry as the leader of legislature party, Hooda continues to hold the sway in the party. Fourteen of the total 15 MLAs were present at Hooda's meeting to discuss arrangements for the rally and the only absence was that of Kiran herself who has opted to side with Tanwar.
In response to Hooda's pink turbans, the Tanwar faction has decided to call supporters to wear Gandhi cap.Captain Ajay Singh Yadav, who is in the opposite camp, said Gandhi cap was an honour for every Congress man.
Internal division within Punjab unit of Congress  is equally worrisome for Rahul.
Deputy Leader of Congress in Lok Sabha Captain Amarinder Singh has directed his supporters to wear saffron turbans at the rally, the Punjab Congress chief Pratap Singh Bajwa said, "All wearing turbans other than saffron are my supporters.
Not just the turban colours but the number of participants too is creating buzz. Punjab Congress chief Pratap Singh Bajwa's camp is asserting 18,000 supporters while Captain camp is claiming to have 35,000 workers.
"We shall take 35,000 workers who would colour Delhi in saffron," claimed Rana Gurjit while Bajwa said that he has appointed observers in each constituency and a total of 18,000 of his supporters would participate in the rally.