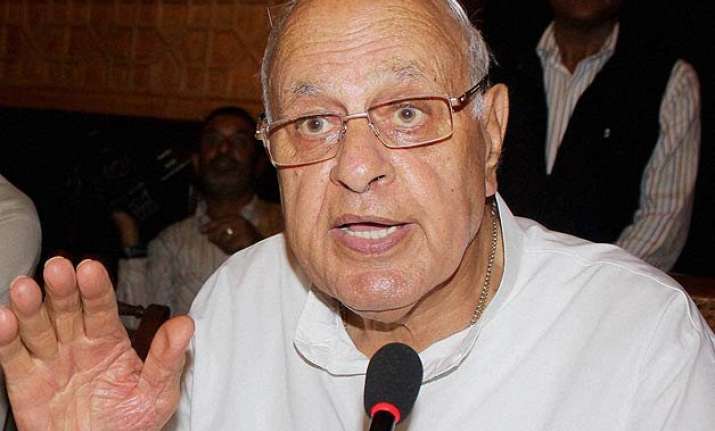 Srinagar:  With ISIS and Pakistani flags being repeatedly displayed in Kashmir, National Conference chief Farooq Abdullah today said it was an expression of "anger" and "frustration" by the youth who want to "wake up the nation".  
The former Chief Minister said "none of us has bothered about them" and there is no way for them to express themselves other than displaying such flags.
"It is actually the frustration and anger in the youth.  Nothing is being done for them. They can't show their anger by any other method except by putting these flags up," Abdullah told reporters here when asked about the frequent hoisting of ISIS and other controversial flags during protests in Kashmir.  
"They (youth) want to wake up the nation that 'think of us'. None of us has bothered about them. That is the tragedy of it," said the NC chief whose party was in power in the state from 2009 to the last year-end.
Necessary measures need to be taken to "get these boys back into the national mainstream", he said, adding, "You have to look at the what is pinching them."
At the same time, he said that borders between India and Pakistan can never be changed as referred to a series of grenade attacks carried out by militants in Srinagar today.  "They (militants) are attacking towers.
What is attacking a tower going to do? Do you think that will change anything. I am absolutely clear the border will never change, whatever you may do. The border is not going to change," Abdullah said after a meeting of his faction of the state's Cricket Association.
Invoking former Prime Minister Atal Bihari Vajpayee, he advocated friendly relations with Pakistan.  "What must be done is friendship between the two countries. It is essential for survival of Kashmir and when I say Kashmir, it means Jammu, Kashmir and Ladakh.  
"I remember Vajpayee Ji's words that friends can be changed but neighbours cannot be. Either we can have friendly relations with the neighbours or destruction is around the corner. They (Pakistan) should also understand this that the Muslims across the world today are facing destruction. Who is responsible for it," he said.
Abdullah said the young generation in Kashmir was on the path of destruction and everyone, except the Mufti Mohammad Sayeed-led state government, was concerned about it.  
"Everybody is concerned about it. Recently, the NSA (Ajit Doval) had also come to review this (situation). Instead of countering these things, they (the state government) is busy with (affairs of) cricket association," the NC chief said.  He was referring to the recent election conducted by the rebel faction of the association which elected Sports Minister Imran Raza Ansari as the president, replacing Abdullah as the head of the cricket governing body after 35 years.  
"The young generation is going on to a path of destruction and Mufti sahib's government is not thinking about how to save the situation from going back to the 1990's. Youth is now educated and wanting to take the gun," he said.  Abdullah criticised the PDP-BJP coalition government for "withdrawing security of people who are most vulnerable" to militant threats.
"Those who are facing the most threat, their security is being withdrawn. Mufti sahib, we also were in power. Farooq Abdullah never reduced your security. Did I trouble you in any way.
How long will you continue this way? 'Jitna aap badla lena chahenge, utna hi Allah bhi aap ka Jinazah jaldi nikalega' (As much as you will try to take revenge, Allah will hasten your death)," he said.
Asked if his security had also been downgraded, Abdullah, who has 'Z-Plus' cover, evaded a direct reply saying he was not bothered.
"I am not bothered about my security, I have faith in Allah. No security can save me when I am destined to die but I am worried about those who live in vulnerable areas and are at the mercy of God," he added.