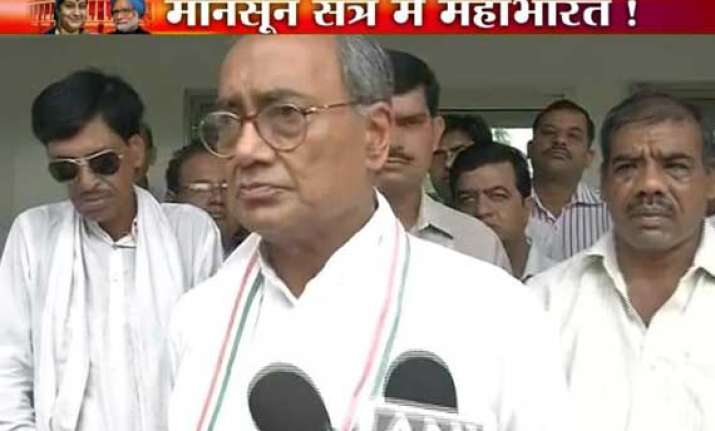 New Delhi, Aug 5: As the monsoon session of Parliament began, Congress leader Digvijaya Singh on Monday questioned the credibility of the opposition owing to frequent disruptions of Parliament.
"Would Parliament be allowed to function by BJP and opposition? It is their credibility at stake. I hope better sense would prevail," Singh commented on microblogging site Twitter.
Singh, who is also the former AICC in charge for Uttar Pradesh and hails from BJP-ruled Madhya Pradesh, also targeted the BJP over the issue of illegal sand mining.
"Shahnawaz-"BJP is opposed to sand mining mafia in UP". Would BJP take action against sand mafia operating in MP under BJP CM's patronage?", he said in his Twitter posting.
BJP leader Shahnawaz Hussain's remarks were in context of UP IAS officer Durga Shakti Nagpal's suspension.
Digvijaya has earlier also charged that the sand mafia is running the governments in both UP and MP.
In another Tweet, the Congress leader said criminal elements are much less in number in Congress as compared to other parties.
According to him, crime cases against parties like Shiv Sena was 31 per cent, 28 per cent against JD(U), 26 per cent against RJD, 23 per cent against TMC, 22 per cent against SP, 18 per cent against BSP, 13 per cent against BJP, 12 per cent against BKP, 11 per cent against NCP, nine per cent against MKP and only eight per cent against Congress.