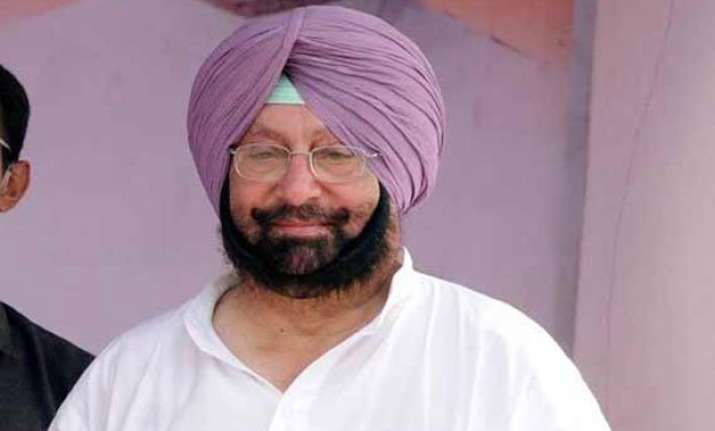 Chandigarh: The war of words between Amarinder Singh and Partap Singh Bajwa further intensified with Congress's drubbing in the Dhuri bypoll today as the two leaders blamed each other for the party's defeat.  
In Dhuri by-poll, SAD candidate Gobind Singh Longowal drubbed Congress-Sanjha Morcha nominee Simar Partap Singh, granson of former governor Surjit Singh Barnala Reacting to Bajwa attributing infighting as one of the reasons for the party's defeat in the bypoll, Amarinder asked, "What is he there for if I am to be blamed for everything?"
In an apparent dig at the Punjab Congress chief, Amarinder said a leader should have the moral courage to own the responsibility for the consequences.  
He said it was Bajwa who first asserted that he did not need big faces like him to campaign in Dhuri and now he was running away from the responsibility and trying to put the blame somewhere else.
"It is strange that instead of questioning the misuse of official machinery by the ruling Akali Dal, Bajwa is trying to blame me. Does he mean to bail Akalis out for all their sins of omission and commission they committed during the campaign?" he asked.
Referring to Bajwa's charge that he took away all MLAs, Amarinder said, "Your candid admission that MLAs, like other leaders, are not prepared to listen to you should be enough reason for you to introspect instead of blaming others." The former Chief Minister said Bajwa neither wanted him to campaign nor was he serious about the campaigning himself as he never stayed put in Dhuri.
"At best it was a half-hearted campaign by Bajwa", he said while referring to his frequent jaunts to Delhi, Chandigarh and other places.
The Congress Deputy Leader in the Lok Sabha, however, maintained that there was nothing for the Akalis to boast about the Dhuri byelection result.
The two leaders have been at loggerheads after Amarinder expressed reservations against possible elevation of Congress vice-president Rahul Gandhi in the party.  While Amarinder claims support of 33 MLAs, Bajwa is backed by four legislators out of total 43 Congress members in the 117 members Punjab assembly.
In the run up to the by-poll in Dhuri, both Amarinder and Bajwa had campaigned for party candidate.