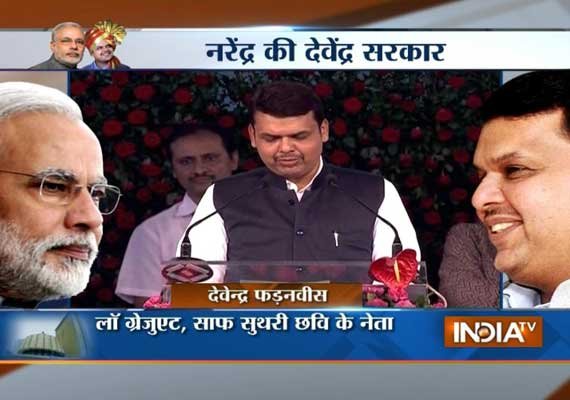 Mumbai: Devendra Fadnavis was today sworn in as Chief Minister of the first BJP government in Maharashtra at a grand ceremony where Shiv Sena chief Uddhav Thackeray made a last-minute appearance, raising the possibility of a rapprochement between the saffron parties.  
44-year-old Fadnavis, a fourth time MLA and the second Brahmin to occupy the top post in the state, was administered the oath of office and secrecy by Governor C Vidyasagar Rao at the Wankhede Stadium in the presence of Prime Minister Narendra Modi, BJP President Amit Shah, several Union ministers and veterans L K Advani and MM Joshi among others.  
Chief Ministers of BJP-ruled states including Vasundhara Raje (Rajasthan), Anandiben Patel (Gujarat), Manohar Parrikar (Goa), Raman Singh (Chhattisgarh) and Manohar Lal Khattar (Haryana) and those governed by allies including Chandrababu Naidu (Andhra Pradesh) and Parkash Singh Badal (Punjab) also attended the event.
Top industrialists along with other eminent personalities, including from Bollywood, and Fadnavis' banker wife Amruta were present at the packed venue when seven Cabinet Ministers and two Ministers of State also took oath.  
Former ally Shiv Sena chief Uddhav Thackeray, whose party had decided to boycott the event citing "constant humiliation" by BJP ahead of government formation, attended the event along with his wife after a last-minute call by BJP President Amit Shah.
Thackeray's presence indicated a possible rapprochement between the two estranged Hindutva parties which fell apart just ahead of the Assembly polls following failure of seat sharing talks.