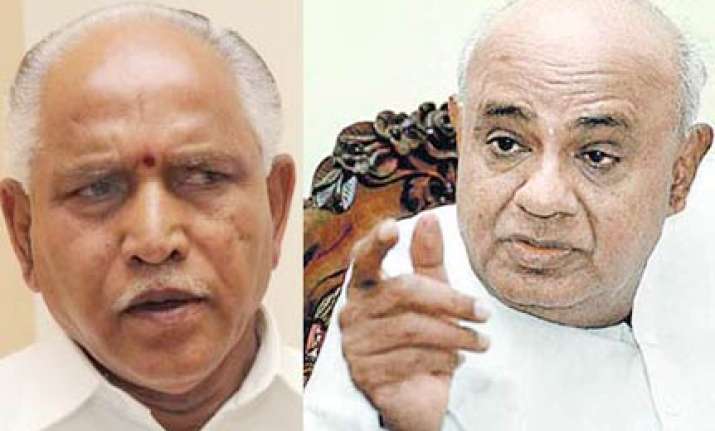 Bangalore, Oct 7: Hitting back at the JDS for its barrage of charges against him on land denotification issue, Karnataka Chief Minister B S Yeddyurappa today alleged that party supremo H D Deve Gowda's family owned about 5,000 acres of land in benami names in and round the city and vowed to retrieve them for development purpose.
"Me and my ministerial colleagues will launch a campaign from tomorrow to expose the misdeeds of Gowda and his family members. They own 4,000 to 5,000 acres of land in and around Bangalore in benami names. I will attach their lands and use it for development," he told reporters here.  
Yeddyurappa, facing a sharp attack from former chief minister H D Kumaraswamy for the past one week over alleged illegal denotification of lands acquired by the Bangalore Development Authority (BDA), said, "Gowda and his family are a curse on this state. I will bring before people the irregularities committed by them while they were in power."
He released some documents in support of his charge that family members of Gowda had purchased land near the city.  Accusing JDS of attempting to topple his government, he said that the party leaders were engaged in a 'malicious campaign' as they were unable to 'digest' his achievements.
"They (JDS) cannot come to power on their own. They are trying to gain power through backdoor. They are under an illusion that they would return to power. People will teach them a lesson," Yeddyurappa said.
He also claimed that JDS offered money to the tune of Rs 20 to Rs 30 crore to each of the MLAs, to switch loyalty and asked "where did they get this money from?"  
Taking on the principal opposition Congress, he accused it of being "anti-development" and appealed to it not to forge another 'unholy' alliance with JDS, for which the party suffered earlier and he too bore the burnt. PTI