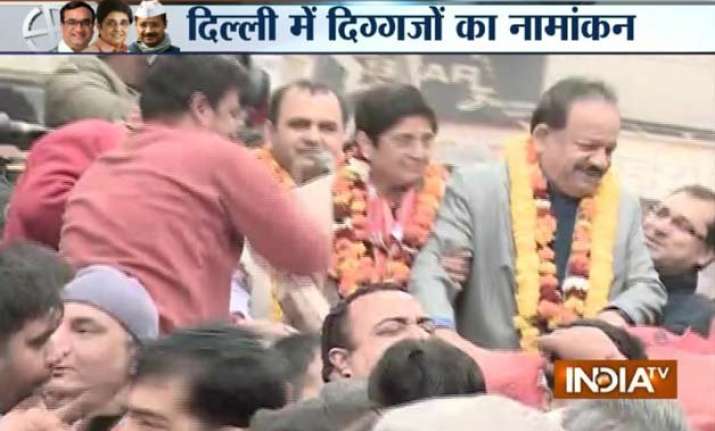 New Delhi: Bharatiya Janata Party (BJP)'s chief ministerial candidate for Delhi elections, Kiran Bedi, and Aam Aadmi Party (AAP) chief, Arvind Kejriwal, today filed their nomination papers from Krishna Nagar and New Delhi Assembly constituencies, respectively.
The BJP leader participated in a roadshow which started from Lala Lajpat Rai chowk in the constituency. She arrived at the Sub-Divisional Magistrate's (SDM) office with her party colleagues Harsh Vardhan and Vijay Goel. While en-route to submit her papers, 65-year-old lady also met several people and discussed their problems they are facing.
She also paid tribute to a statue of Lala Lajpat Rai in Krishna Nagar constituency before starting her nomination yatra.
Speaking to media, Bedi highlighted her priorities. She said that, if voted power, her government will bring out white paper for every department. She also spoke of conducting a security perception index to understand what are the real security concerns of the city.
"Everyday I will go to people and ask them about their problems... My government officials will be on road daily morning at 9 am. They will be meeting people and discussing their grievances," the BJP's chief ministerial candidate said.
"Approach to all governance shall be diagnostic, curative and holistic. To ensure resources are optimally deployed and used on needs analysis," she said in a twitter post earlier this morning.
Krishna Nagar is considered to be a stronghold of the BJP. In the last assembly polls, the party had fielded senior leader Harsh Vardhan, who is now a Cabinet Minister in Prime Minister Narendra Modi's government.
On the other hand, Kejriwal, who had missed filing his nomination on Tuesday, also filed his papers from New Delhi assembly seat.
BJP has fielded Nupur Sharma, the national media co-incharge of Bhartiya Janta Yuva Morcha, the youth wing of the saffron outfit, from New Delhi seat.
Meanwhile, senior Congress leader and head of the party's campaign committee for the Delhi polls, Ajay Maken, also filed his nomination papers today. He is contesting from Sadar Bazar seat.
Ahead of filing his papers, the leader dubbed Kejriwal and Bedi as 'opportunists' who 'used' veteran social-activist Anna Hazare to meet their own political ambitions.
The elections for the 70-member Delhi Assembly will be held in a single phase on February 7, with the counting of votes set to take place on February 10.