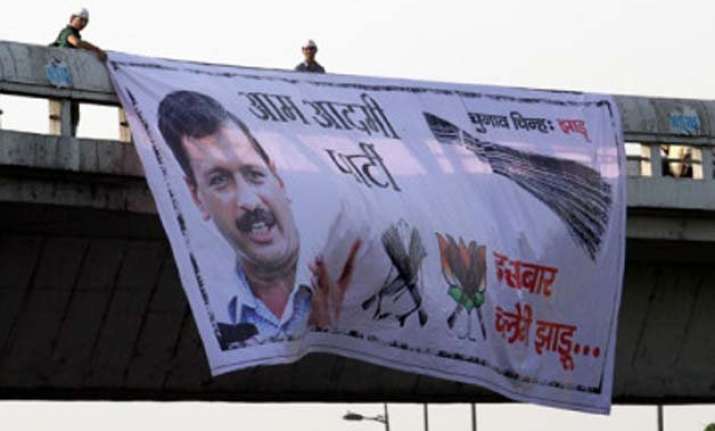 New Delhi: The Aam Aadmi Party (AAP) and BJP have devised innovative strategies to interact with voters. Delhi metro has now become a platform for the parties to promote themselves and garner votes. While over 300 volunteers of AAP hang around various metro stations and travel in the trains to interact with people, the BJP has pasted advertisements in the stations.
For more than 10 days AAP volunteers, wearing their caps, have been riding metro and discussing AAP's achievements.
"The idea is to discuss and interact with commuters. Our volunteers explain AAP's achievements from its 49 days in government. Questions and discussions are encouraged", said an AAP member.
"Our volunteers go through orientation programmes before they start campaigning. Some have joined through social media and are put in the evening schedule," said another office bearer, Pathak.
He claims that they are getting good response from people.
"A buzz is getting created because of this campaign form...we've had people speak very positively about AAP after these interactive sessions," Pathak added.
Most of these volunteers are not Delhiites. Taking a sabbatical or break from work and studies they have come from cities like Mumbai and Bengaluru to campaign in Delhi.
They mostly target densely crowded stations like Rajiv Chowk, Chandni Chowk, Pragati Maidan, Yamuna Bank and Rajender Nagar.
BJP on the other hand has pasted advertisements outside Shivaji Park and Dhaula Kuan Metro stations. Smaller advertisement panels with their message can be seen inside the trains.
AAP and BJP are using panels in 30 trains each. The trains run mostly on Yellow (Jahangirpuri-HUDA City Centre) and Blue (Dwarka Sector 21-Noida City Centre/Vaishali) lines, said a Delhi metro official.