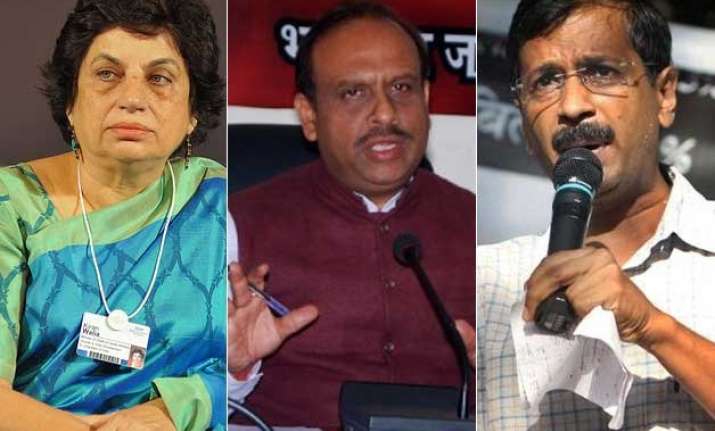 New Delhi: With Delhi assembly elections round the corner, all eyes are set on high-profile VIP seat, New Delhi. The constituency is considered as very powerful and the battle is very prestigious for every party. It should also be noted that winner from here became the CM of the state for the last four terms.
In December 2013 polling, Aam Aadmi Party (AAP) chief Arvind Kejriwal had emerged victorious from here. He had defeated three-time Delhi Chief Minister and Congress leader Sheila Dikshit by a massive margin of 28,864 votes. Kejriwal and Dikshit bagged 44269 and 18405 votes, respectively.
Once again, the AAP will field Kejriwal from this prestigious seat.
Reports said that the Bharatiya Janata Party (BJP) is weighing its options between a star or a grassroots worker. Speculation were rife that former AAP leader Shazia Ilmi could contest against Kejriwal but today morning she tweeted that she is not in the race for the party ticket.
Another prominent name in the race for the BJP's candidature is Surender Singh Rao. Rao has a strong local connect. He headed various public dealing departments of the New Delhi Municipal Council (NDMC) for the past 20 years. Rao, who has served as the enforcement director for the agency, retired in 2013.
Poonam Azad, wife of cricketer-turned-politician Kirti Azad, is a key face who could get BJP's ticket. She had represented the seat in 1993.
Other names include: former DUSU president - Nupur Sharma (also a part of the Delhi BJP's media team), local leader and general secretary of the Yuva Morcha - Sunil Yadav.
In previous election, former Delhi BJP chief Vijender Gupta was the party's choice but he came a distant third.
Sources said that the BJP is confident of clinching the seat since one of the flagship initiatives of the BJP-led Central government, Swachh Bharat Abhiyan, was launched from the Valmiki Colony in the New Delhi segment.
Meanwhile, reports suggested that actor-turned-politician, Jaya Prada, is considering joining the BJP eyeing to contest elections against Kejriwal.
The Congress, which was voted out of power in December 2013, has decided to field former woman and child development minster Dr Kiran Walia against Kejriwal from New Delhi constituency.
The voting will be held on February 7 and counting will take place on February 10. According to the Election Commission, there are a total of 1.30 crore voters and there will be 11,763 polling stations in Delhi. Out of the 70 assembly seats, 12 seats are reserved for the Scheduled Castes.