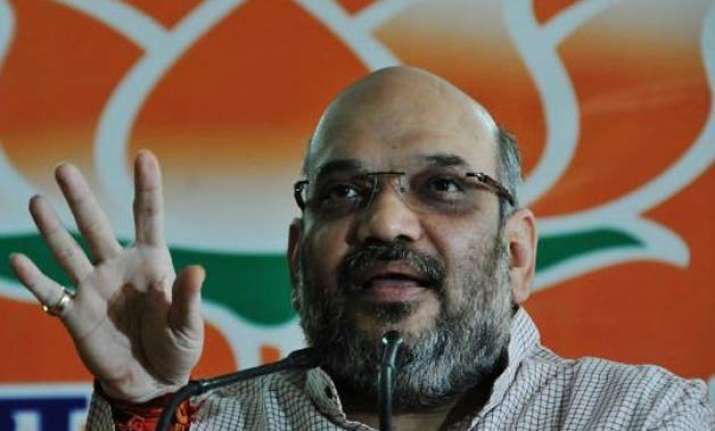 New Delhi: Bharatiya Janata Party (BJP) president Amit Shah has said that the lynching of a Muslim man over beef-eating rumours in Dadri of Uttar Pradesh was "wrong" and the perpetrators should be punished.
He also said that controversial party MLA Sangeet Som should not have visited the village.
"Whoever has done....this is wrong. They should be arrested and punished," Shah told India Today news channel on Tuesday while answering a question on the lynching of 55-year-old Ikhlaq and injuring of his son by a mob on September 28.
He, however, insisted that the Narendra Modi government at the centre or BJP should not be dragged into the issue, saying it was a law and order matter which is the responsibility of the state government.
"Where did the murder take place? It is the responsibility of the Samajwadi Party government (to maintain law and order)," he said, and asked, "How can the BJP respond to it?"
Asked why BJP leaders went to site of the incident as it was seen as provocative act, Shah shot back, "Who went to Dadri first? Rahul Gandhi went first. Asaduddin Owaisi went after that. Then (Arvind) Kejriwal went. Mahesh Sharma (Union Minister) went from BJP's side because he is a local MP there, because it was his duty."
When it was pointed out that Sangeet Som, an MLA accused in the Muzaffarnagar riots of 2013 also went to Dadri, the BJP chief said he "should not have gone."
Taking on media for continuously raking up the Dadri incident, Shah questioned why the killings of Hindu youth in western Uttar Pradesh were not being highlighted with the same zeal. "Have you studied how many Hindu youth have been killed (in Western UP)? Did anyone investigate?
The BJP president also distanced the party from the ink-attack on ORF's Sudheendra Kulkarni by activists of ally Shiv Sena, saying his party and the state government in Maharashtra does not support the act.
"Neither did the BJP nor did the BJP government in the state support this. Even if it (the Shiv Sena) is our alliance partner, from the very begining Shiv Sena has maintained a stand against Pakistan. We have never supported it," he said.
Talking about ongoing Bihar Assembly elections, Shah exuded confidence that the BJP-led NDA will get two-third majority.
He also insisted that the statement of RSS chief Mohan Bhagwat on reservation "was distorted" by the media. He said RSS had itself clarified on the matter.