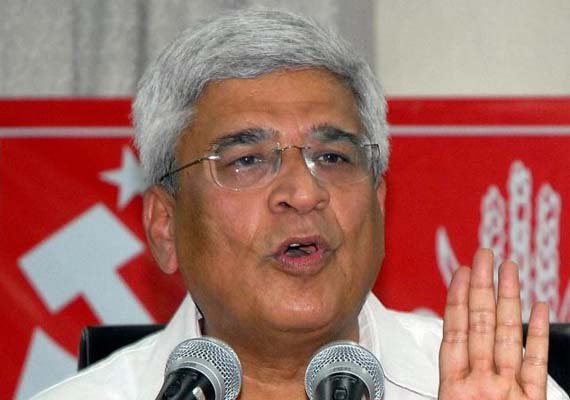 New Delhi: CPI(ML) and SUCI will for the first time join a common platform with four Left parties in November to carry out joint campaigns and protests against the "anti-people" policies of BJP-led government, including its "attempts to dilute" labour laws and MGNREGA.
So far, the four Left parties - CPI(M), CPI, RSP and Forward Bloc - have been working together and even been part of the Left state governments in West Bengal and Kerala. This is the first time that CPI-ML (Liberation) and SUCI would be joining hands with them.
The six parties would hold a joint meeting here on November one to chalk out a common strategy to launch joint campaigns and protest actions against "anti-people" policies of the Narendra Modi government as well as the communal menace, CPI(M) General Secretary Prakash Karat told reporters.
"This will be the beginning. CPI-ML (Liberation) and SUCI -- these two parties are finalised. We are talking to and have approached some other parties too," he said.
"Our first priority is to strengthen the organisational structure of our party. Then we will try to bring together Left forces and strengthen their unity. We will also try at the same time to bring together other secular democratic forces too," Karat said.
Charging the Modi government with trying to "curtail, undo and restrict" the MGNREGA which has provided "at least a modicum of relief" to the rural poor, he said it would organise a nationwide campaign against the Centre's move on the issue on December 2.
At the same time, the party would support the struggle of Central Trade Unions against the amendments made by the government in labour legislations which will "take majority of workers out of the purview of labour laws".
Maintaining that Rural Employment Guarantee Act was adopted by UPA-I because of Left pressure, Karat said the Modi government was "set to undo this Act, curtail it and restrict it and change the character of this legal right provided by an Act of Parliament."
He said the nationwide movement on the issue would culminate on December two in Delhi through a mass dharna led by Tripura Chief Minister Manik Sarkar.
Karat said the "best performance" of implementing MGNREGA was the Left Front government in Tripura where 88 mandays of employment was being provided against the national average of 45. However, the Centre has "arbitrarily slashed" the allocation to the state by 47 per cent, which would hit the poor.
On the moves to dilute labour laws by the government, the CPI(M) leader said his party would extend full support to the trade unions' struggle, starting on December 5.
He said the proposed changes in the labour laws would take the majority of workers out of their purview and help the employers.