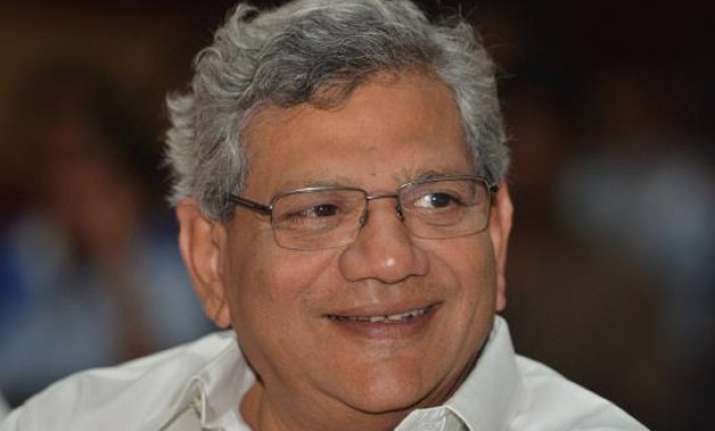 New Delhi: CPI(M) today termed as "undemocratic" and "an attempt to bypass parliament procedure" the government's move to extend the session to pass the coal and mines bills and said the party will oppose the move.
CPI(M) also made it clear that the party will invoke the Clause 93(2) to send the coal and mines bills again to Select Committees saying the current reports were not "satisfactory".
They want to the extend the session to get coal and mines bills to be passed, but we will oppose it, CPI(M) leader Sitaram Yechury said here.
He said the party is opposed to such last minute extensions as it is undemocratic.
"Select Committees for both the bills have sent their reports. In both the reports, a large number of Members have sent notes of dissent. As far as CPI(M) is concerned, it has also sent note of dissent," Yechury said.
"Now these reports are parliament property. We are saying that these reports and note of dissent must be discussed and decided by the House as per the parliamentary procedure."
He said the government does not want to permit such a discussion. "They want to bring these bills to get it passed. We are opposing this because the government is bypassing the entire parliamentary procedure."
Making the party's intention clear, Yechury said, "According to the Rule 93(B), if the House feels that the select committee has not done the job properly, House can decide to send it to another Select Committee. CPIM) has given notice to invoke this clause as the select committees have not done their job and Chairmen of these Select Committees are only pushing the government agenda to pass the bills.
"So, we are invoking the clause 93(2) asking for setting up of new select committees on these two Bills."
Attacking the government, CPIM) leader said the aim of the government was to privatise the nationalised coal mines.
"These bills are actually undoing the nationalisation of these coal mines which were done by the Parliament 40 years ago. What they are proposing now is privatisation of coal mines. This is a reversal what the country followed for four decades. We are saying that this process is an undemocratic, violating parliamentary procedure that is why we are opposing it."