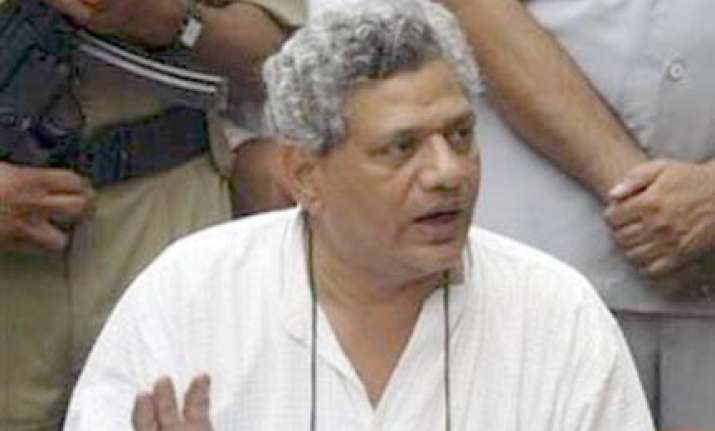 New Delhi, The CPI(M) on Thrusday accused the government of keeping silent on, what it called, the "collaboration" between Maoists and Trinamool Congress and warned that such "political opportunism" will have grave consequences for the country.
  "The government has been avoiding a straight forward answer to the mounting evidence on the open collaboration between TC and the Maoists, who jointly organized the recent Lalgarh rally in West Bengal," party leader Sitaram Yechury told reporters here.  He said the government was yet to return to the House after ascertaining facts from the Railway Minister about the presence of Maoists and their supporters in Tuesday's rally, as was promised.  "We want the Prime Minister to answer how long this marriage of convenience will continue.
How can the UPA-II government continue to exist with this contradiction? The political opportunism of UPA-II will have grave consequences for national integrity and unity," Yechury said.  "We continue to reiterate that the Prime Minister has described Maoism as the gravest threat to the nation's unity, integrity and internal security, but his Cabinet Minister continues contradicting the government.  "This Minister openly says that the operations carried out by security forces in which Maoist leader Azad was killed was a fake encounter," the CPI(M) leader said. He said Maoist leader Kishenji has openly extended support to TC and termed as "correct" Banerjee's statement that it was a fake encounter.
The CBI has also pointed towards Maoist-backed outfit People's Committee against Police Atrocities (PCPA) for being involved in sabotaging the tracks which led to the Jnaneswari Express accident, he said.  On the claims of PCPA that it was part of Trinamool's rally in Lalgarh, Yechuri said Prime Minister Manmohan Singh has himself admitted that Maoists are the biggest internal security threat to the country.  "Now the government should explain how people supporting Maoists are part of the government," he said.  CPI(M) leader Basudeb Acharia said the Maoists had been "marginalised and Mamata Banerjee's rally was aimed at providing them oxygen. Most of the rallyists in Lalgarh belong to the PCPA as has been witnessed by everyone". PTI