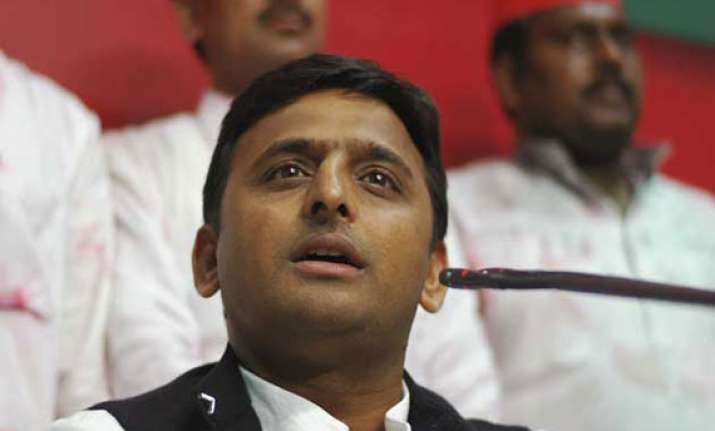 Lucknow: Uttar Pradesh Chief Minister Akhilesh Yadav today said for campaigning, Congress was using the services of a foreign company which had been named in the Bhopal gas tragedy, for campaigning during the Lok Sabha polls.
"Opposition parties are spending thousands of crores of rupees on their campaigning. While BJP has hired a foreign company, Congress is using the services of a company whose name came up in Bhopal (gas) tragedy," Akhilesh alleged, while addressing a press conference here in connection with SP's campaigning for Lok Sabha elections.  When asked to name the company, the Chief Minister refused to elaborate.
Appealing to people not to "fall into the trap of false promises made by these parties", Akhilesh said his government's policies were appreciated by all and it had "returned money" of the people through its schemes.  
On SP's candidate in Varanasi, Kailash Chaurasia, whose tribe is involved in betel trade and so is projected as 'paanwala', Akhilesh said the 'paanwala' will give a tough fight to the 'chaiwala' (tea-seller), referring to BJP's candidate and PM nominee Narendra Modi, who has been wooing voters by recalling his days as a tea-seller.  "Chai is not good for health...it creates acidity. We are offering paan, which is helps in digestion and is considered shubh," he said in lighter vein.
On development, Akhilesh asked Modi whether companies like Infosys and HCL had gone to Gujarat.  "In UP, they say law and order is not good. IT companies HCL and Infosys are making IT city in the state.
Why have these companies not gone to Gujarat?" he asked.  Stating that BJP itself had termed its leader as good "event manager", he said, "What is the meaning of event manager in Hindi? If I tell you, I will get EC notice." The SP leader also alleged that BJP was using Muzaffarnagar riot victims in their election campaign.  Claiming that his party would win maximum number of seats, Akhilesh said SP would play curcial role in formation of the government at the Centre.
On the occasion, the state unit of Indian Justice Party, which was formed by Udit Raj (who recently joined BJP), led by its state president Kalicharan Sonkar joined SP with all the office bearers.
Another outfit, the Hindustan United Movement (HUM) also announced support to SP.