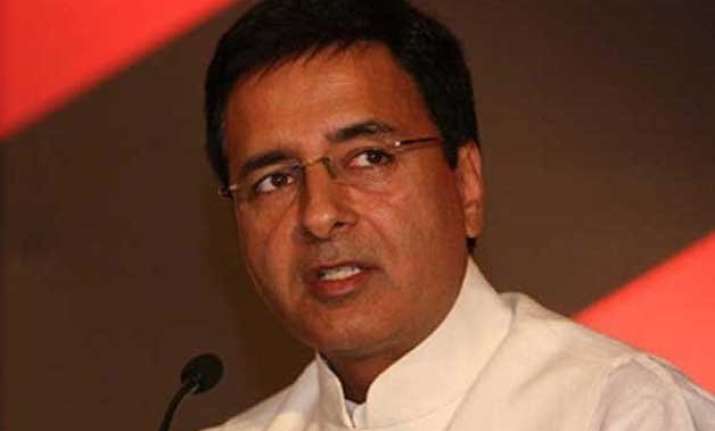 New Delhi: Utilising the handle given by US President Barack Obama, Congress today targeted Prime Minister Narendra Modi, questioning if he will "look within" and do the course correction by checking the "lumpen elements" in the Sangh Parivar.
Party spokesman Randeep Surjewala also attacked the government over omission of the words 'secularism' and 'socialism' in the official advertisements of the Preamble of the Constitution, saying it raises doubts over its "integrity, intent and intention" and asked Modi to clarify his stance.
At a press conference here, Surjewala referred to Obama's comments here yesterday when he made a strong pitch for religious tolerance and said that India will succeed so long it is not "splintered" on religious lines.  
Surjewala said he sincerely hoped that Modi "listened to the words of our guest and will do necessary course correction from unilateralisam to India's inherent pluralism."
Questioning whether Modi is "ready to look within, the Congress spokesperson wondered if the Prime Minister would "check lumpen elements within the Sangh Parivar who are tarnishing" the image of India as a land of peaceful cohabitation and co-existence of people of different faiths.
Lamenting that the BJP has been speaking in different voices on the issue of conversions, he said the truth is that RSS and its various outfits have been "attacking core fundamentals of India's Constitutional ethos."
Surjewala said the Congress is happy that the US President called upon young Indians yesterday to follow essential fundamentals of India's constitutional ethos and added that his party epitomises this idea of India.  
The spokesperson also sought to dismiss the explanations given by the government on the deletion of referecnes to secularism and socialiam in the advertisements and said his party looked at the development with suspicion and felt that the government was "testing waters".
The Prime Minister should clarify his stance on his definition and understanding of the words secularism and socialism, he added.